Old Port Road flies the flag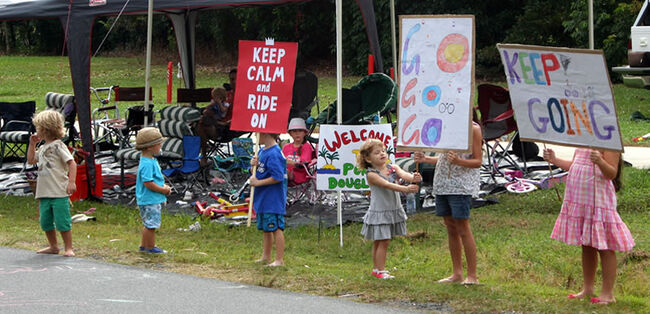 Old Port Road flies the flag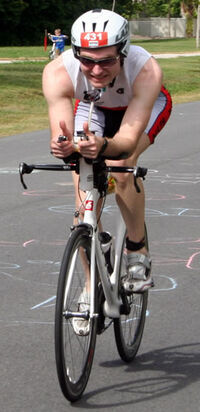 For the third year in a row, the residents around Old Port Road turned out on Sunday to cheer on the monumental efforts of the mighty Cairns Ironman triathletes, as they completed a grueling 180km bike leg.
The cyclists battled their way into the centre of Port Douglas twice via Old Port Road, pushing their bodies to the limit against gusty head winds on the challenging ride up and down the Captain Cook Highway.
And each time the competitors rode past, the small but enthusiastic band of families and friends in Old Port Road cheered them on, with cardboard signs held aloft and glasses raised, shouting their support as though their lives depended on it.
Many cyclists, especially those sighted in the middle to end of the peloton positions, returned appreciative cheers to the locals. This year, Tony Jones from Calypso Reef Charters was cheering with his family and found himself assuming the role of Good Samaritan when a member of an athlete's technical staff stopped to ask at Tony's marquee for an Allen key. Apparently, one of the riders was riding in and out of Port Douglas with his brakes locked on. Imagine how hard the ride must be without that added stress!

The solution: an Allen key to release the pressure. Keen to help, Big Tony responded like a human Black Caviar, rushing back to his house across the road, still holding his pint glass of Murphy's Stout and trying to avoid cyclists from both directions. By the time the cyclist in question, #1367 Warren Kearns, arrived at the designated temporary pit stop, Tony was battling his way back across the road with his Allen Key set in one hand and precious Murphy's Stout in the other. Big Tony never spilled a drop.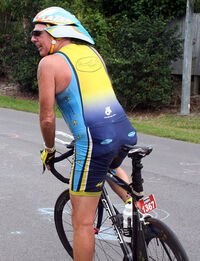 After the appropriate key was found, the quick-fix was done within 30 seconds. Cyclist #1367 was on his way, speeding off - brake-free - down the highway.
It was a moment of unexpected heroism for the Old Port Road crew, and how good did they feel, especially when Warren returned a couple of hours later on his second leg to Port.
"You are a champion, I would never have finished the cycle leg without your help," said Warren to Tony and his friends, in heartfelt thanks.
This triathlon festival has drawn much criticism since its inaugural running in 2011, predominantly because of the prohibitive road closures involved. But surely Big Tony's small but significant gesture at this years race is how we should all be looking at the Ironman event.
If for no other reason than to help heal any rifts - past, present or future, real or imaginary - between Port and Cairns since council amalgamation, and then de-amalgamation.
It feels good to lend a hand, to ensure everyone gets a fair go and enjoys being part of something very special, something bigger. After all, how often do we get to be actually involved in a world-class, internationally televised event?
The far north shouldn't be criticised for hosting these events. Far from it - the region needs more events like the Ironman, to attract global attention to our little piece of paradise in Tropical Australia. It is up to us to ensure Port Douglas gets its fair share of the spoils, and anyone who suffers commercially gets help.
Big Tony and the Old Port Road crew get it! They understand the prestige of such an event. Join in, and you too will appreciate the effort and commitment of competitors and organisers alike, and realise just how much of the event spotlight we enjoy.
We've got another opportunity to hit the streets and cheer on athletes on November 3rd, with the CANEGROWERS Great Barrier Reef Marathon - and there's no road closures for this one!
Come and join us in Old Port Road - you'll love it!