How to make your point 101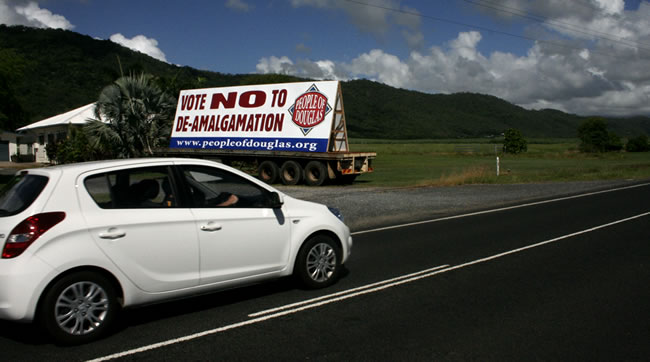 It has been on display just a few days, but already a giant billboard urging residents of Douglas to vote 'No' to de-amalgamation is causing a stir.

The double-sided billboard, standing around ten metres long and three metres high, is located on the Captain Cook Highway just north of Port Douglas and is part of a campaign by the People Of Douglas to retain the region's alignment with Cairns Regional Council.

To date, local accountant Terry Hooper and former Port Duglas Chamber of Commerce president Ken Dobbs have been the public faces of the group. The People Of Douglas has been criticised by Friends Of Douglas Shire supporters for not disclosing the names of other founding members.

The Newsport has contacted the People Of Douglas and has requested these details, however the group has chosen not to provide the names of those involved other than to say "The People of Douglas is a group of local people from all walks of life who live and work all over the Douglas area and who do not wish to de-amalgamate from Cairns."