Crocs no threat in ocean
Wednesday October 29 2014, 2:55pm
Recent sightings of large crocodiles off local beaches have raised questions about what danger the reptilian predators pose to swimmers when they take to the ocean, with a local croc expert saying that while there is a risk of beach attacks it can be minimized through 'a bit of common sense'.
A croc estimated to be about three metres in length was spotted off Ellis Beach on Monday, leading to the closure of the beach for a week.
It comes after the sighting of a croc estimated to be four metres long just 20 metres from a swimmer off Four Mile Beach on October 17.
That sighting in turn follows the removal of a 2.5 metre croc believed to be responsible for eating several family pets from Reef Park Lake and and what is now believe to be the first sighting of the four-metre croc off Four Mile Beach in August.
Debate on the Newsport's Facebook about how humans and crocodiles should interact has been energetic, with many arguing that crocodiles were there first and should have their territory respected and others claiming the animals pose an unacceptable risk to human lives and the image of the area as a safe tourist destination.
The crocs seen at Four Mile Beach and Ellis are believed by most not to be engaging in hunting behaviour, which they do at night and usually in river systems.

Drew Melville is the wildlife handler at Hartley's Creek Crocodile Adventures and said it was difficult to predict the behaviour of crocs at sea, saying that they could be 'opportunistic'.
"When the crocs are traversing the coastline, they aren't site-idyllic, which means they aren't going try and live off that beach, hanging around waiting for things to eat - but they are opportunistic," Mr Melville said.
"It's a very complex issue - we have sightings every year, especially around this time of year, but not many attacks."
Croc attacks on humans are fairly rare, and sea attacks rarer still.
In 2001, eight-year-old Atherton girl Taleesha Fegatilli was grabbed by a croc just off Four Mile Beach and dragged into deeper water, but it released her and she managed to swim to shore.
In 1997 Cairns man Ron Bakx was mauled by a croc when swimming at night off Yorkeys' Knob, later admitting that taking to the water in darkness was a severe mistake on his part.
Mr Melville said that people could minimise the risk of attacks through common sense.
"Risk management is pretty simple - swimming only during the day in designated areas in view of the lifeguards is going to minimize your contribution to any potential attack.
"At a beach like Four Mile, it's more likely that a big croc is going to be seen and swimmers will be able to exit the water before anything happens.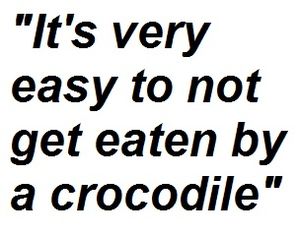 "A little common sense goes a long way - it's very easy to not be eaten by a crocodile."
Ellis Beach is covered by Zone 2 crocodile management plans by the state government, meaning crocodiles that pose a threat to the community 'through their size of behaviour' will be removed by officers from the Department of Environment and Heritage protection.
Four Mile Beach is covered by Zone 3 croc management plans, meaning a croc has to display 'threatening behaviour' before it is targeted for removal.
Douglas Shire Council has collected resident views on crocodile management and will present those findings at the next council meeting on November 4.
Councillor Terry Melchert has called for an amendment to the Zone 3 regulations covering Port Douglas' beaches, saying that any big croc that approaches close to publicly used areas like Four Mile Beach should be removed.
"What's concerning me is there is a lot of talk over what zone we shoud be in but not about the croc thats coming around the corner today or tomorrow - the Department of Environment really has to get off its bum on this," Cr Melchert said.
"I've spoken to hundreds of people on this issue and nobody is calling for the removal of all crocs, just the ones that come to us."