Severe heatwave set to scorch the Douglas Shire
HEATWAVE
Last updated:

---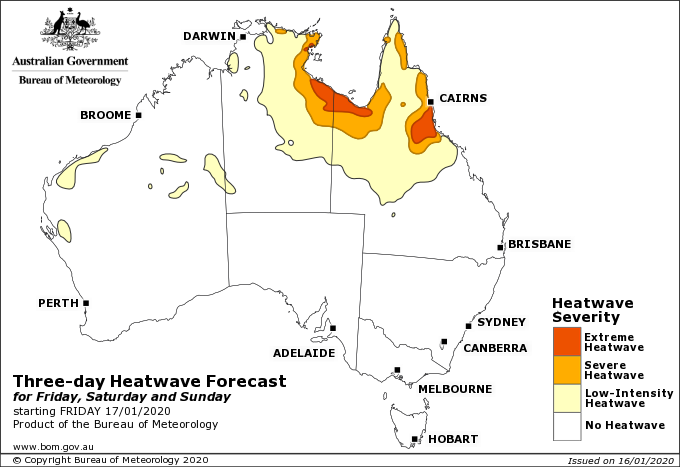 Temperatures are set to soar across the Far North with the Douglas Shire expected to experience severe heatwave conditions and high winds over the coming days.

The Bureau of Meteorology has forecast that heatwave conditions will start today and stay until Monday, however, temperatures are forecast to remain in the mid-30s well into next week.

Tomorrow is set to be the hottest day with temperatures tipped to reach close to 40C in parts of the region.

The Douglas Local Disaster Management Group (LDMG) has also issued a warning that katabatic winds are expected to impact areas around Port Douglas and Oak Beach today and tomorrow.

Katabatic winds are strong winds that pick-up speed as they move down the mountains.

The LDMG are encouraging residents to secure any outside objects such as trampolines and furniture.

Temperature Forecast:

PORT

DOUGLAS

MOSSMAN

DAINTREE VILLAGE
Friday: 35
Friday: 37
Friday: 38
Saturday: 37
Saturday: 39
Saturday: 40
Sunday: 36
Sunday: 38
Sunday: 38


Be Prepared Before A Heatwave

• Plan ahead to reduce the risk of getting heat exhaustion or a heat-related illness.
• If you have a medical condition, ask your doctor for advice on how to manage the heat.
• Think of simple ways to make your home or building cooler (e.g. install awnings, shade cloth or internal blinds or curtains on the sides of the building that face the sun).
• Have air conditioners serviced before the beginning of summer.

Drink Water Regularly

• Drink 2 to 3 litres of water a day at regular intervals, even if you do not feel thirsty.
• Sports drinks do not replace water.
• Don't drink alcohol, soft drinks, tea or coffee—they worsen dehydration.
• Eat as you normally would but do try to eat cold foods, particularly salads and fruit.
• Avoid heavy protein foods (e.g. meat, dairy products) which raise body heat and increase fluid loss.

Stay As Cool As Possible

• Wear appropriate clothing to suit the hot weather. Wear lightweight, light-coloured, loose, porous clothes. Wear a wide-brimmed hat and sunscreen.
• If possible, stay inside, in the coolest rooms in your home.
• Plan your day to keep activity to a minimum during the hottest part of the day (11:00am–3:00pm), if you can.
• Avoid strenuous activities and gardening.
• Block out the sun during the day by closing curtains and blinds and keep windows closed while the room is cooler than it is outside.
• Open up windows and doors when there is a cool breeze when the temperature inside rises, and at night for ventilation.
• Use fans and air-conditioners at home to keep cool, or spend time in an air-conditioned library, community centre, shopping centre, or cinema.
• Take frequent cool showers or baths.
Do not leave children, adults, or animals in parked cars

Look After Your Animals
Animals can also be affected by heat-related illness. If you're in charge of an animal, you have a duty of care to provide it with food, water, and appropriate shelter.

Caring For Children In Heat

Babies and young children are more susceptible to heat-related illness than adults because their bodies cannot easily adapt to changing temperatures. The younger the child, the quicker they will start to show signs of dehydration or heat stress. Sick children need special attention in hot weather, even for minor illnesses such as a cold or hay fever.

Stay hydrated and well-nourished:

• Ensure your child has easy access to plain water and encourage them to drink it, even before they become thirsty.
• Avoid using ice.
• Do not give children drinks that cause dehydration – such as drinks high in sugar, salt and/or caffeine.
• If you are breastfeeding, feed your baby more often and drink plenty of water yourself.
• Give bottle-fed babies cool, boiled water between feeds.
• Give children small regular meals and minimise hot food.

Monitor your child's urine rate:

• Babies – monitor the number of wet nappies. If your baby has fewer wet nappies than usual in 24 hours, see a doctor or ring 13 HEALTH for advice.
• Young children – urine should be a light straw colour. Dark urine may be a sign of dehydration and indicate the need to drink. If you are concerned, see a doctor or ring 13 HEALTH for advice.
---
Have an opinion or point of view on one of our stories or a community issue? Please submit a Letter to the Editor here.
* Readers are encouraged to use their full details to ensure letter legitimacy. Letters are the opinions of readers and do not represent the views of Newsport or its staff. Letters containing unlawful, obscene, defamatory, personal or abusive material will not be published.
---
Got a great news tip or video? We'd love to see it. Send news tips to editor@newsport.com.au

---
Comments are the opinions of readers and do not represent the views of Newsport or its staff.
Reader comments on this site are moderated before publication to promote valuable, civil, and healthy community debate. Our moderation takes into consideration these guidelines and rules before comments are approved for publication.