Four Mile Beach closed after stinger found in net
IRUKANDJI FOUND
Last updated:

---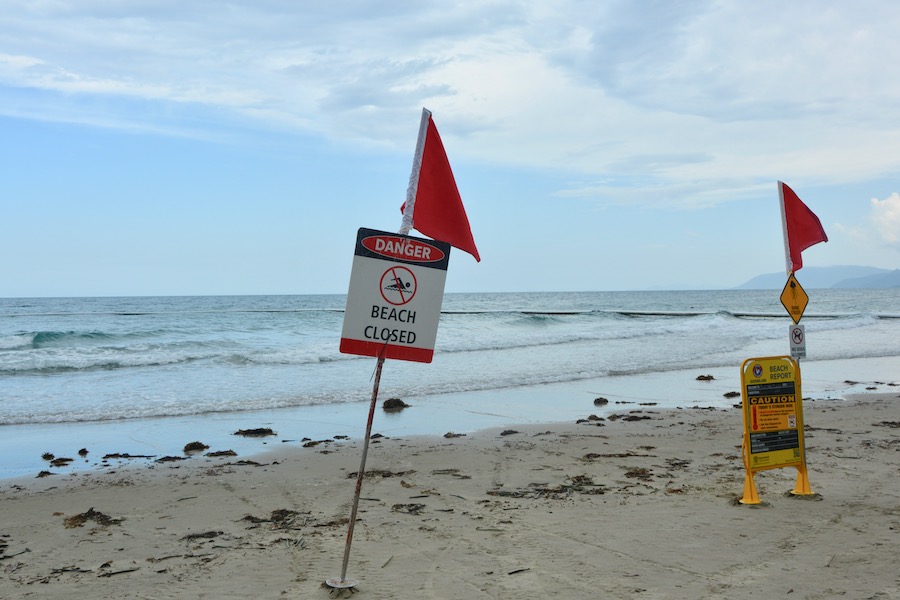 Four Mile Beach will be closed for 24 hours after a stinger was found in the net. Image: Karlie Brady.
Four Mile Beach in Port Douglas is currently closed after an Irukandji Jellyfish was found inside the stinger net.

North Queensland Lifeguard Supervisor, Jay March, said the Irukandji was found at 8:30am during routine net drags conducted by lifeguards prior to the beach opening this morning.

"We then followed procedure which is to shut the beach for 24 hours and see if anything else is around," he said.

Since then no other stingers have been found, however, windy conditions have made net dragging difficult.
Lifeguards advise that currently no one should enter the water.

Mr March said this is the first Irukandji sighting at Four Mile beach this year, however, Ellis Beach and Palm Cove Beach were closed due to stinger sightings recently.

"Port Douglas is not a known Irukandji hotspot; they are very seldom found there.

"However, there have been a number of stings out at low Isles which is not that far away.

"Lucky this one was found before anyone was stung," he said.
Lifeguards will conduct further drags in the morning and asses if the beach is safe to open.

"If we do open, it will be on a high risk, which means it is not a good idea for the very young or the elderly to swim as they are most at risk if stung.

"Always swim in the net, between the red and yellow flags and ask advice from the lifeguards on duty," Mr March said.
---
Have an opinion or point of view on one of our stories or a community issue? Please submit a Letter to the Editor here.
* Readers are encouraged to use their full details to ensure letter legitimacy. Letters are the opinions of readers and do not represent the views of Newsport or its staff. Letters containing unlawful, obscene, defamatory, personal or abusive material will not be published.
---
Got a great news tip or video? We'd love to see it. Send news tips to editor@newsport.com.au

---
Comments are the opinions of readers and do not represent the views of Newsport or its staff.
Reader comments on this site are moderated before publication to promote valuable, civil, and healthy community debate. Our moderation takes into consideration these guidelines and rules before comments are approved for publication.