Tin Shed boss announces tilt at Council position
COUNCIL ELECTION
Last updated:

---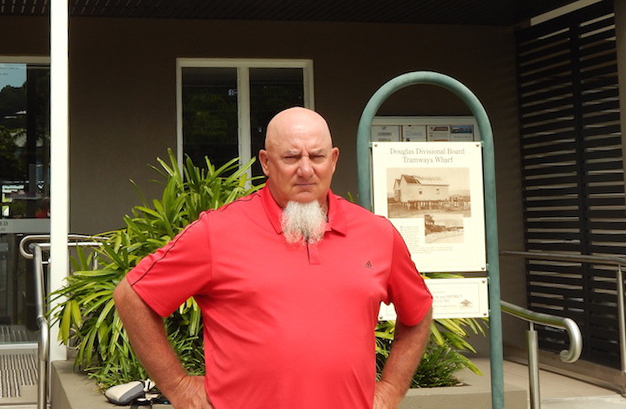 CANDIDATE: Kim Rowley is the first to announce his plans to run for a position on Douglas Shire Council in 2020. Image: Howard Salkow.
Well known Port Douglas business identity and manager of the Port Douglas District Combined Clubs (Tin Shed), Kim Rowley, is among the first out of the blocks to announce he will be running for Council.
The next Council elections are scheduled for Saturday March 28, 2020.

Running on the platform – balanced environment and development – Mr Rowley has the support of his board and said today it was prudent people knew he would be seeking a position on Council.

"I know it's a long way off, but then the sooner I made this known the better," he said.

It is unknown at this stage whether Mayor Julia Leu along with Councillors David Carey, Abigail Noli, Roy Zammataro and Michael Kerr will re-contest in the March election.
Now into his eighth year at the Tin Shed, Mr Rowley said he would be devising a detailed plan over the next few months which would form part of his campaign.

"There are many issues which concern me. We are not doing enough to help our young people and create jobs for them. This is an area I intend to look at very seriously," said Mr Rowley.

But Mr Rowley realises he cannot make the changes on his own.

"In the next few months, I will be working with a group of people who have a vision and what we present will be clear and practical."

It is no secret Council is constantly under attack for limiting development – the town is eagerly awaiting the plight of the Marina and Crystalbrook's revised Development Application – and Mr Rowley would like to see a balance between future development and caring for the environment.

"This is where I am going to concentrate my efforts because it's going to be a major part of my campaign."
For now, it's a case of stay tuned. And over the next 14 months, we should get a better idea of how Mr Rowley sees the shire's future.

Mr Rowley has had his share of battles with Council and in May last year, the club was stung with a 100 per cent rental increase; hiking it from $43,000 to $86,500 per annum.

"Council views the Tin Shed as a commercial business rather than a not-for profit sports club such as the Surf and Yacht Clubs and this allowed them to raise our rent," said Mr Rowley.

"This has been a long and hard-fought battle and this is not the outcome we wanted.

"We put forward a strong case, but Council obviously sees this as an opportunity to extract further funds to enhance Council income at a cost to ratepayers who make up a majority of the membership," he said at the time.


Join the conversation
Thumb up or thumb down on the subject we've covered OR
place a comment below.


* Readers are encouraged to use their full details below to ensure comment legitimacy. Comments are the opinions of readers and do not represent the views of Newsport or its staff. Comments containing unlawful, obscene, defamatory, personal or abusive material will not be published.