The story of the only woman hanged in Queensland
LOCAL HISTORY
Last updated:

---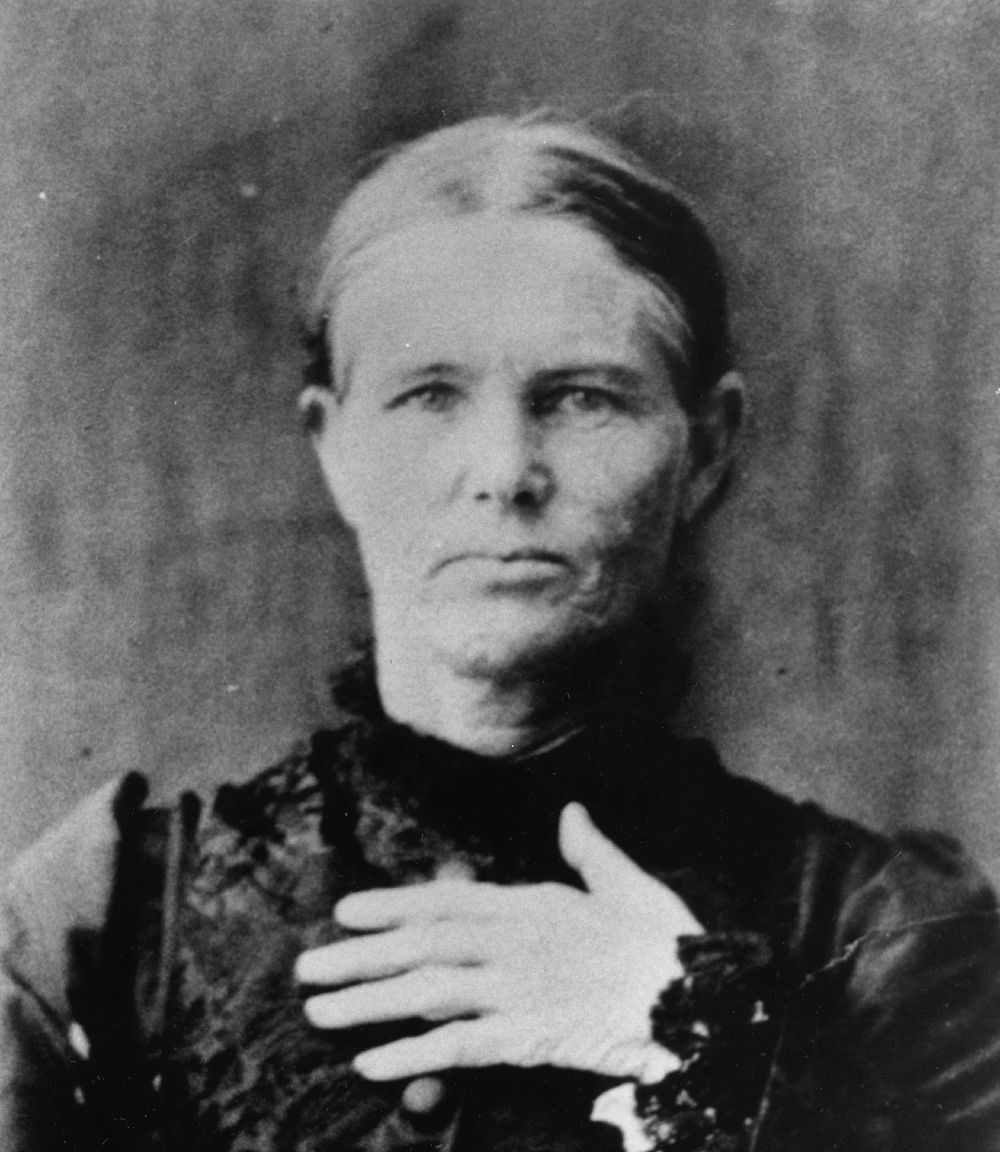 INJUSTICE: Ellen Thompson lived in the Douglas Shire region and became the only woman hanged in the state of Queensland. Image: State Library of Queensland.
In Australia's early settler days, capital punishment may have been common practice but in Queensland, there was only ever one woman sentenced to hang and she was from here in Douglas Shire.

Ellen Thomson's life begins similarly to many earlier settlers but it ends in a rather ghastly way as she met her death in the gallows. According to some, for a crime, she may not have committed.

Born in Ireland in 1846, Ellen Thompson migrated to New South Wales in 1858 and at the age of 19, married William Wood.

Together the couple had five children before Wood passed away nine years later.

The widowed Ellen moved to Cooktown where the Palmer River gold rush was in full swing, however, conditions were tough and she struggled to support her children.

In 1878 Ellen moved to the Douglas Shire region where she took up work as a housekeeper to William Thomson who had a farm on the Mossman River.

A year later, Ellen gave birth to William's daughter and in 1880 she married him to legitimise the baby.

William was 24 years her senior and by all reports was a difficult man to live with.
The marriage was strained and there are suggestions that William was jealous, violent and a drunk. On one occasion he hurled a kerosene lamp at his stepdaughter and a knife at Ellen.

The two eventually took up separate dwellings on the property and Ellen began a friendship with John Harrison, a young marine deserter working on the adjoining "Bonnie Doon" property.

The two were rumoured to be lovers, which caused further tension in her marriage that would eventually lead to all their deaths.

On 22 October 1886, William was found dead, lying next to his gun with a bullet wound to his head.

Ellen told police that her husband must have taken his own life after she had heard a gunshot and moans coming from his house.

However, a more sinister outcome was discovered when the body was examined revealing two holes in the skull, indicating that William had been shot twice.

Police concluded that William Thompson was murdered.

Suspicion and gossip quickly arose that Ellen and her lover were at fault and they were soon arrested and charged with murder at a committal hearing in the old Port Douglas courthouse.

They were taken to Townsville to be tried where the odds were stacked against them from the start.

They were not allowed to take the stand during the trial to defend themselves and their lawyer was inadequate, even apologising to the jury for his lack of experience in such cases.

The judge, Justice Cooper, was also known for his harshness in criminal cases.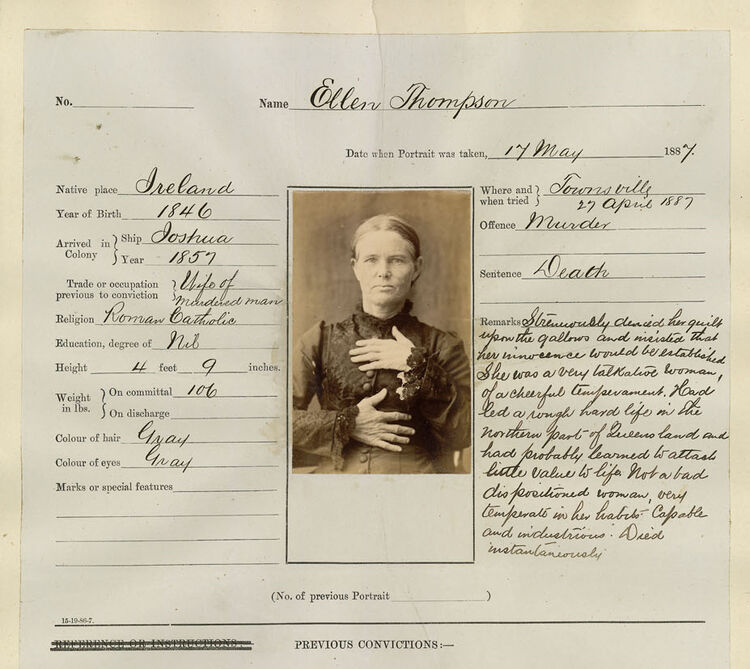 The notes he made throughout the trial show his clear bias and disapproval of the pair, describing Ellen as a "loose woman" and John as "her latest fancy man," while the victim was portrayed as vulnerable and helpless.

Ellen was not a demure woman, as was the norm in those days, but was rather outspoken with a sense of justice it was easy for the press to portray her as a harlot.

Media of the day made references to the number of children she had, never once mentioning that she was a widow when she arrived in Port Douglas, rather implying they were all illegitimate.

Ellen was deemed a monster and the community quickly ignored William's faults and condemned his long-suffering widow.

While the evidence was not enough to prove the pair's guilt beyond a reasonable doubt by today's standards, it was enough to convince the jury of the day.

Ellen claimed her innocence until the end but Harrison reportedly confessed to one of his gaolers the night before his execution.

He claimed he had been the one to shoot William at Ellen's encouragement, adding he didn't care about her; he just wanted her sugar cane farm.

Some historians and descendants of Ellen believe she was innocent and that a huge miscarriage of justice was served.

Whatever the truth, the pair were hanged on 13 June 1887 and Ellen went down in history as the first and only woman to be hanged in the state of Queensland.


Join the conversation
Thumb up or thumb down on the subject we've covered OR
place a comment below.


* Readers are encouraged to use their full details below to ensure comment legitimacy. Comments are the opinions of readers and do not represent the views of Newsport or its staff. Comments containing unlawful, obscene, defamatory, personal or abusive material will not be published.