The right bell tolls for Mossman cancer patient
HEALTH
Last updated:

---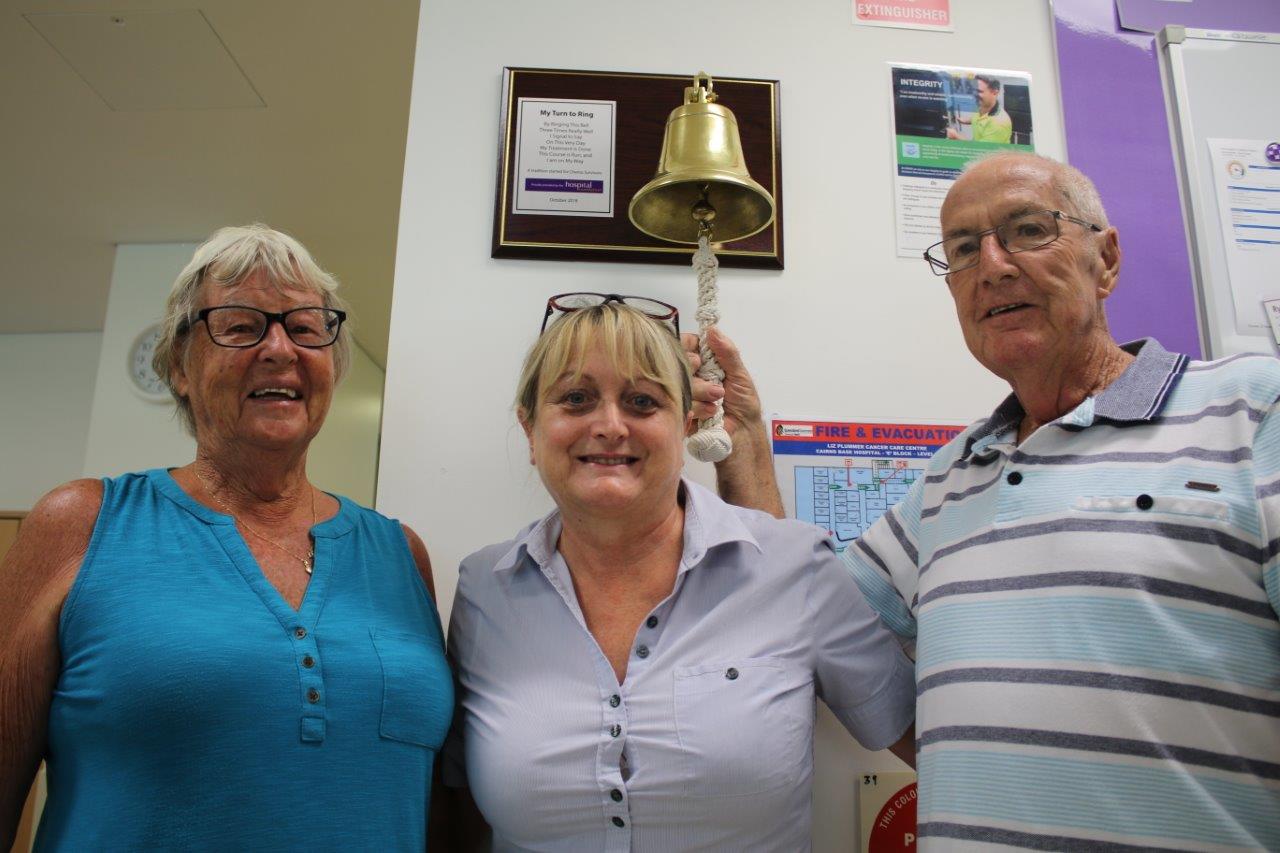 RINGING SUCCESS: Lyn and Brian Buffington with Day Oncology Acting NUM Jenny Faulkner. Image: Supplied.
Seventy-nine-year-old Mossman leukaemia cancer patient Brian Buffington recently had the honour of ringing a recently-installed new and larger bell to signal the end of six months of chemotherapy treatment.

In what is a ritual at the Oncology Day Unit at the Liz Plummer Cancer Centre in Cairns, patients previously only had access to a very small bell on the reception desk in the unit which they rung on completion of their treatment.

However, and thanks to the Far North Queensland Hospital Foundation, Mr Buffington paved the way for patients to mark their special milestone with the larger bell.

And as he sounded the bell, Mr Buffington said: "There's only one word to describe it, 'exhilarating'. It's been a long haul and it's good to give it up and I'm privileged to ring the bell for the first time," he said.
He said it was good to get over it and to ring the bell. "It's marvellous to have the bell and there is hope for other patients. It is a goal to set yourself.

"This has been a different experience; I've never had this before. I want to thank the people at the hospital, they've done a marvellous job and they make it what it is," he said.

Mr Buffington was mindful of a plaque which has been installed next to the bell. It reads:

"My Turn to Ring.
By Ringing this Bell, Three Times Really Well, I Signal to Say, On this Very Day, My Treatment is Done, This Course Is Run, and I'm On My Way."
Jennifer Faulkner, the Oncology Day Unit Nurse Manager, said the Cancer Care Centre provides approximately 1150 cancer treatments a month and it's wonderful to see patients able to celebrate the end of their treatment.

"The staff in centre are very dedicated and passionate about their work and often become very close to their patients as treatment can go on for months or years," she said.

"This new larger bell helps our patients to share the joy of reaching a significant milestone and it is a reminder their treatment is only one chapter in their lives and not their whole story."

Meanwhile, Mr Buffington said he would be celebrating the end of his cancer treatment by going on a cruise with his family to mark his 80th birthday in June.
Join the conversation
Thumb up or thumb down on the subject we've covered OR
place a comment below.


* Readers are encouraged to use their full details below to ensure comment legitimacy. Comments are the opinions of readers and do not represent the views of Newsport or its staff. Comments containing unlawful, obscene, defamatory, personal or abusive material will not be published.