Outlook for marina development collectively positive
BUSINESS DEVELOPMENT
Last updated:

---
LOOKING GOOD: The development of the plan to upgrade and rebuild the Marina in Port Douglas looks to be ticking along. Image: Newsport.
Crystalbrook Collection, proposed developers of the Reef Marina, has provided their strongest assurance they are committed to the project.

They are extremely positive the Douglas Shire Council will approve their revised Development Application (DA) and they have no regrets getting involved in the project.

There is no indication when the adjusted DA will be submitted to the DSC, other than speculation it will be in the first quarter of the year.
---
Related Coverage:
- CRYSTALBROOK TO RETHINK PORT DOUGLAS MARINA MASTER PLAN
- HALT TO MARINA REDEVELOPMENT HAS BUYERS 'SITTING ON THEIR HANDS'
- MARINA DEVELOPMENT WILL GET FAIR ASSESSMENT
---
In April last year, the $200 million transformation was put on ice after a number of issues were raised with the original scheme.

Douglas Shire Council sought an information request from Crystalbrook seeking clarification on a number of aspects, including the design's visual suitability for the tropical village.

In an interview with Newsport, Crystalbrook Collection CEO Mark Davie said the new DA would be updated.

The original design of Syrian billionaire Ghassan Aboud's company included a number of waterfront dining and retail precincts, a 130-room luxury hotel, 45 villas and nine apartments.

"Yes, the new DA will be updated from what was originally submitted. We are still working through the new design but believe we have something that will be positive for all involved," said Mr Davie.
Mr Davie kept his options open when questioned if Council rejected the revised DA, or placed too many conditions; would Crystalbrook look elsewhere to develop?

"We are a growing company and we are always looking for opportunities. This growth plan extends to many parts of Australia," he said.

Questioned whether Crystalbrook is having satisfactory discussions with Council and if Port Douglas residents can be assured the re-development will go ahead, Mr Davie said: "yes, we are satisfied with current discussions."

Last year, in an interview with FAB FM, Davie was quoted saying: "We are as patient as until the next best opportunity comes along."

In this interview, and after being asked if his patience was running thin, he reiterated: "we are working well with council and expect to be able to agree on timelines."

When asked if he found an opportunity elsewhere enabling him to move ahead quicker than in Port Douglas, would he accept it which would mean delaying the Marina's re-development?

"There are always opportunities," he said.

"One example is Kingsley, our Newcastle hotel where we are working towards a late 2020 opening which will be before Port Douglas.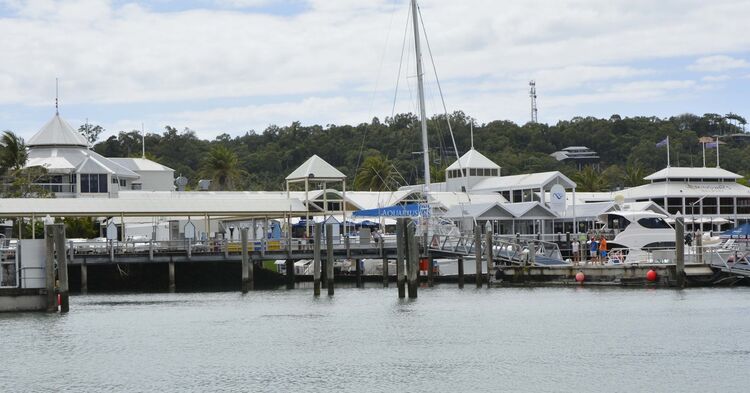 "We are having positive conversations with the Port Douglas Council and would like to see these conversations continue," said Mr Davie.

In September 2017, Crystalbrook Collection purchased The Reef Marina and was re-named the Crystalbrook Superyacht Marina, adding to billionaire developer Ghassan Aboud's major investments in Far North Queensland.

At the time, Mr Davie said central to the expansion was the creation of a 'world-class' hotel in Port Douglas.
"This site demands a hotel of the highest calibre," he said.

"We have been travelling the world for inspiration. We want to bring to Port Douglas a globally recognized hotel and an incomparable experience for its guests."

It was also predicted that the development would be a boon for Port Douglas with more than 600 jobs predicted to be created over the construction phase, which was then slated for mid-2018, with 240 permanent jobs post completion.


Join the conversation
Thumb up or thumb down on the subject we've covered OR
place a comment below.


* Readers are encouraged to use their full details below to ensure comment legitimacy. Comments are the opinions of readers and do not represent the views of Newsport or its staff. Comments containing unlawful, obscene, defamatory, personal or abusive material will not be published.