No more water restrictions as reservoirs fill in Douglas Shire
INFRASTRUCTURE
Last updated:

---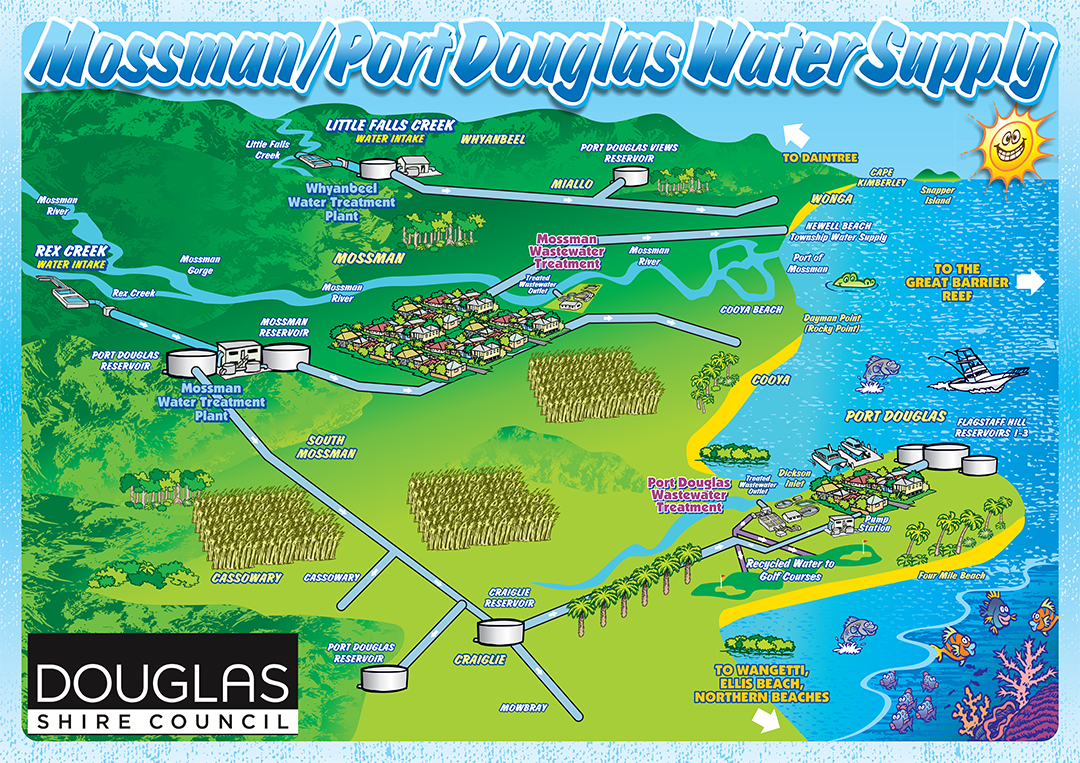 WET: This diagram shows where the water for the Douglas Shire region is collected from and where it is treated. Image: DSC.
"These high turbidity levels slow down the water treatment process, required to make clean and safe water," she said.

Cr Leu said water couldn't be added to the reservoirs if it is not clean and safe.

"The new Port Douglas Water Supply Reservoir was built to give us greater resilience during extreme weather events.

"The new reservoir boosts Douglas Shire's resilience by providing an extra 2-3 days' supply of treated water when the Rex Creek Intake is blocked.

"Port Douglas uses on average about 7ML per day and the Port Douglas Reservoir holds 20ML," she said.
DOUGLAS WATER SUPPLY SOURCES:

Douglas Shire Council currently extracts raw water from three locations from Daintree in the north to Mossman in the south.

REX CREEK: Mossman, North Mossman, Port Douglas, Newell Beach, Cooya Beach, Cassowary and Mowbray communities. This water is treated at the Mossman Water Treatment Plant.

LITTLE FALLS CREEK: Miallo, Rocky Point, Port Douglas Views and Wonga communities. This water is treated at the Whyanbeel Water Treatment Plant.

INTAKE CREEK: The Daintree and surrounding communities. This water is treated at the Daintree Water Treatment Plant.


Join the conversation
Thumb up or thumb down on the subject we've covered OR
place a comment below.


* Readers are encouraged to use their full details below to ensure comment legitimacy. Comments are the opinions of readers and do not represent the views of Newsport or its staff. Comments containing unlawful, obscene, defamatory, personal or abusive material will not be published.