Missing fisherman found...still on boat
POLICE BRIEF
Last updated:

---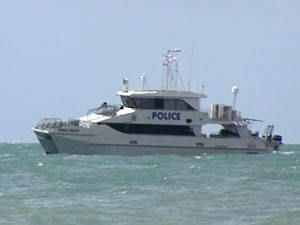 UPDATE 4.25pm:

Sunshine Coast Water Police were advised shortly after 4pm this afternoon that the missing 45-year-old fisherman had been located safe and still onboard the commercial fishing vessel.

The man was found by members of the crew in a compartment on the boat.

Water Police will travel to the vessel this afternoon to speak to the man and determine the circumstances surrounding this incident.

All search assets have now been stood down.
UPDATE 3.35pm:
Sunshine Coast Water Police continue to coordinate an air and sea search for a 45-year-old Mooloolaba man missing in waters off Double Island Point.

Around 2.30am this morning a crew member on a commercial fishing vessel was noticed missing from the rear deck of the boat, which was approximately 30NM east of Double Island Point.

Police were notified and a fishing vessel in the vicinity commenced searching, along with the vessel the man was missing from.

Sunshine Coast Water Police coordinated a surface (sea) search from first light with vessels from Yeppoon Water Police, Hervey Bay Water Police and coastguard vessels from Tin Can Bay and Noosa.

Today's aerial search involved seven helicopters and two fixed-wing aircraft.

The search has covered approximately 134 square miles and will continue until last light when it will be suspended overnight.

Water Police vessels will continue a surface (sea) search tomorrow morning.

Police continue to liaise with the man's family.


EARLIER:

A fisherman is missing off the tropical coast that is believed to have fallen overboard near Double Island Point in the early hours of this morning.

An air and sea search is currently underway for the 45-year-old who was reported missing at about 3.00am.
Combined emergency service crews are searching approximately 30 nautical miles offshore from Double Island Point.

Water police are coordinating the search which includes, eight helicopters, two fixed wing aircrafts, one jet, two QPS water police vessels, two fishing vessels and a Coast Guard vessel.

If you have information for police, contact Policelink on 131 444 or provide information using the online form 24hrs per day.

You can report information about crime anonymously to Crime Stoppers, a registered charity and community volunteer organisation, by calling 1800 333 000 or via crimestoppersqld.com.au 24hrs per day.


Join the conversation
Thumb up or thumb down on the subject we've covered OR
place a comment below.


* Readers are encouraged to use their full details below to ensure comment legitimacy. Comments are the opinions of readers and do not represent the views of Newsport or its staff. Comments containing unlawful, obscene, defamatory, personal or abusive material will not be published.