Council impressed by Crystalbrook's marina concept
MARINA DEVELOPMENT
Last updated:

---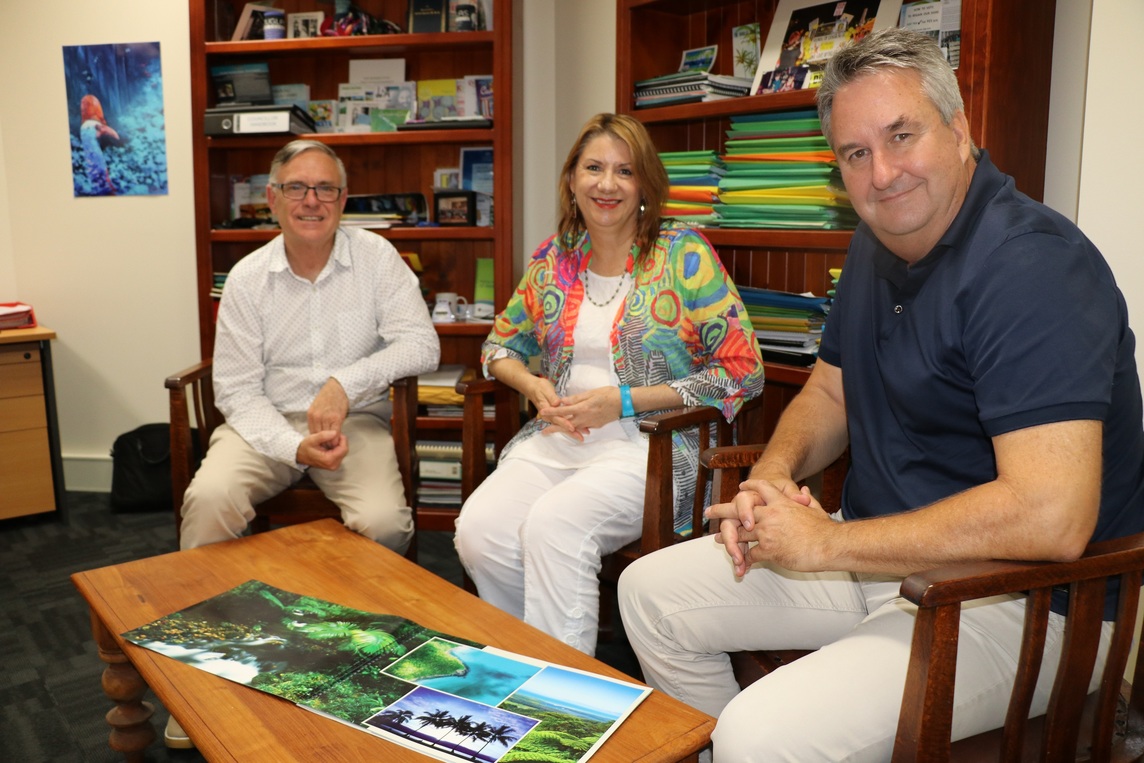 HAPPY: EJE Architecture Director Barney Collins, Douglas Shire Mayor Julia Leu and Crystalbrook Collection Group Director of Hotels, Geoff York, in Mossman this week. Image: Supplied.
Crystalbrook Collection's preliminary designs for the marina in Port Douglas complement the town and environment, according to Douglas Shire Council.

Councillors were treated to a sneak preview of the concept designs for the marina development on Tuesday.

Newcastle-based architect firm, EJE Architecture, which has worked on large hospitality and resort projects all over Australia, has created the concepts.

They were presented to Council by EJE Architecture Director Barney Collins and Crystalbrook Collection Group Director of Hotels, Geoff York.
---
Related Coverage:
- MARINA DEVELOPMENT WILL GET FAIR ASSESSMENT
- OUTLOOK FOR MARINA DEVELOPMENT COLLECTIVELY POSITIVE
- CRYSTALBROOK COLLECTION BUYS PORT DOUGLAS MARINA
---
Douglas Shire Mayor Julia Leu said the designs included many elements that Council and the community can get excited about.

"The reef and rainforest is the essence of Douglas Shire and these designs absolutely fit that narrative," she said.

"I was impressed with the variety of plants, nautical themed design, extensive public space and boardwalks that could only add to the tropical character of Port Douglas.

"Councillors and I are so excited for the community to see the really clever work that the
Crystalbrook Collection architects have put together."
Cr Leu also renewed the council's commitment to working with Crystalbrook Collection to make the new marina a reality.

"We will continue to work closely with Crystalbrook Collection and feel more confident than ever that this development is edging closer," she said.

Crystalbrook Collection are yet to formally submit a development application to Council for consideration and have said the designs will be made publicly available at the time the application is made.

Once lodged, Council officers will assess the application and put a recommendation forward for Councillors to vote on.
Join the conversation
Thumb up or thumb down on the subject we've covered OR
place a comment below.


* Readers are encouraged to use their full details below to ensure comment legitimacy. Comments are the opinions of readers and do not represent the views of Newsport or its staff. Comments containing unlawful, obscene, defamatory, personal or abusive material will not be published.