What's going on at this iconic Port Douglas pub?
BAR MAKEOVER
Last updated:

---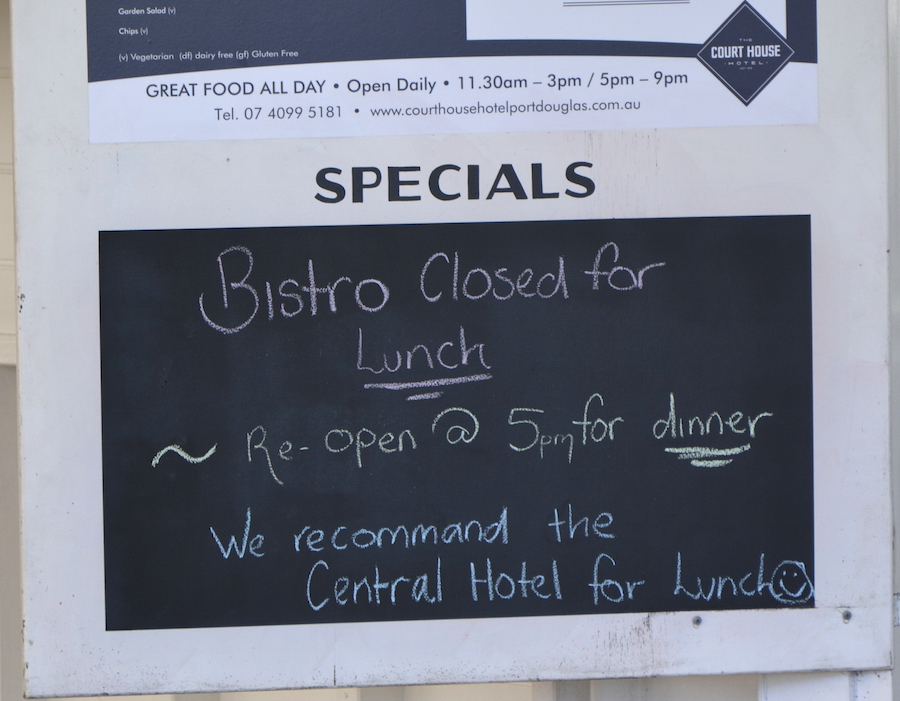 The Court House Hotel's main bar will be closed for the next six weeks for renovations. IMAGE: Newsport.
THE main bar at The Court House Hotel in Port Douglas is getting a serious makeover and will be closed for the next six weeks.

A complete refurbishment is underway at the iconic pub, which will close its lunch bistro for the next 'couple of days' as demolition work is carried out on the Wharf Street entrance. The TAB and upstairs Sunset Bar will be unaffected by the renovations, as will the live entertainment and beer garden on the Macrossan Street side.
General Manager of Projects for the Hilrock Hotel Group, Charles Warren, said the new look bar would be worth the wait for customers.

"The main bar has been completely gutted, it's going to be a whole new fit out," Warren said.

"It's a complete refurbishment and we apologise for any inconvenience caused to our customers. The new service area and amenities will be well worth the wait and we're working hard to have the project completed as soon as possible.
"We anticipate it will be completed by at least early March and we're really excited about it."

The new area will retain a traditional 'Queenslander' feel but enjoy a fresh new appearance with 12 beers expected to be available on tap.

Warren said dining at the popular pub would be largely unaffected throughout the construction phase.
"People will still be able to dine along the Wharf Street side, however lunch trading may be affected for the next couple of days as demolition crews work near the site," he said.

"Again we apologies for this but we only anticipate it being a few days. Dinner will be business as usual.

"There is obviously a few minor hiccups such as these to juggle over the next couple of days, but that's it."

With the next two months usually quieter periods in Port Douglas due to the rising heat and humidity, Warren said it was the opportune time to complete the work.

"We are generally busy for Australia Day but tend to get a bit more quiet after that, so we hope we won't be affected too much."