WATCH: He's done it again! Bob Hawke skolls beer to raucous applause at SCG
VIRAL VIDEO
Last updated:

---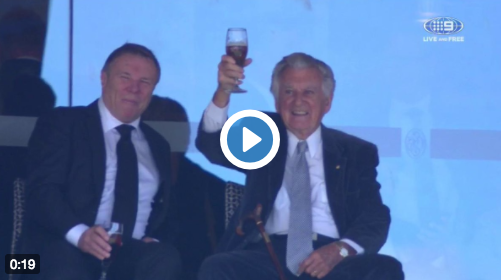 Bob Hawke necks a beer at the SCG today, becoming the number one trending topic on Twitter. Watch it below. IMAGE: Twitter (Channel 9).
FORMER Australia Prime Minister Bob Hawke is knocking them back, again, at the SCG.

In was is fast becoming a tradition, the 87-year-old has necked am amber ale while on the big screen before lunch during the third Test against Pakistan today.

WATCH THE VIDEO HERE

The popular former leader of the Labor party received wild applause following the feat, which he also performed back in 2012 at the same venue against India (watch it below).



Australia captain Steve Smith and coach Darren Lehman can be seen in hysterics following Hawke's skoll, which has become the number one trending topic on Twitter.

Hawke is often remembered for necking a yard glass at world record pace while studying at Oxford University in 1955.