The only certainty is uncertainty as Trump era begins
OPINION
Last updated:

---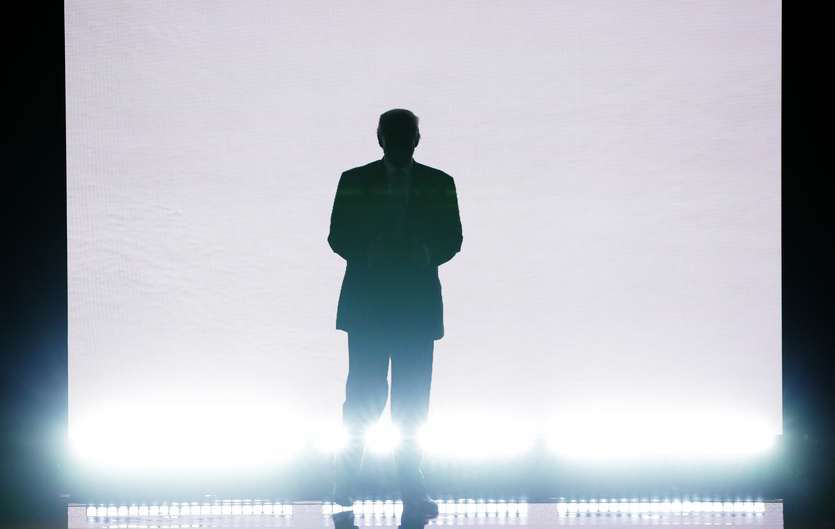 The Donald Trump era begins tomorrow when he is sworn in as President of the United States of America. IMAGE: Political Saints.
"As Trump era arrives, a sense of uncertainty grips the world." This New York Times headline aptly articulates the mood circling the globe as Friday's inauguration looms when Donald J Trump is sworn in as the 45th president of the United States of America.
These are unprecedented times. Young or old, the next four years will have an impact on every demographic group. For the younger generation, Trump's children will be role models and leading the way will be Ivanka, already labelled the First Daughter.

Traditionally, the president's wife – the First Lady – makes her presence felt, with the fashionistas paying close attention to her fashion tastes. This time, though, the world will be watching Ivanka while wife Melania bases herself in New York with their youngest son Barron. Ivanka will be in the White House along with her husband, Jared Kushner, a senior adviser to his father-in-law, and playing a key role in decision making.

Even before taking office, Trump set new precedents. His family's involvement – unlike any of his predecessors – in his administration is just one of many. What we do know is that his sons Eric and Donald Jr., Ivanka and Kushner are extremely bright individuals and will become even bigger players in America long after Trump has left the White House.

But it's Trump's uncertainty, unpredictability, pompous arrogance, abrasive and take-it-or-leave-it approach that worries the Chinese, Europe, NATO, Australasia, among others. Only Russia's Vladimir Putin appears unfazed as Trump continually talks up his positive relationship with the Russian leader.

The aforementioned concerns are exacerbated by Trump's love affair with Twitter. This social medium has been his greatest weapon to target those who target him. He berates the media for their "fake news" and uses Twitter to get out what he believes is the truth. And remember, this man is a bully: he can give it, but he cannot take it. And he doesn't get mad, he gets even. This much is evident if you look at his business history, which is fascinating in itself.

Admittedly Twitter has not been around that long, and former president elects did not have this medium as an option, but it's unprecedented in the history of the US that someone in Trump's position has been so vocal and active before taking the oath of office. It also remains to be seen if he continues to keep his Twitter account once in the Oval Office.

What adds to the intrigue of this man and his family, it's this: Trump is primarily a brand. Brand Trump. There have been highly successful marketers in the US, but Trump has taken this to a level few come close to. His vast business interests will not disappear and his presence in the White House will enhance the brand. And his sons, daughter and son-in-law will benefit from this for the rest of their working lives.

A further intrigue will be how much he gets through the House and the Senate. And coupled to this, is how he responds when he does not get his way. Equally interesting is how close he pays to detail: his style is 'do now and ask questions later'.
?
Brand Trump is with us for four years – and possibly eight if he runs and wins a second term – and there will no bigger name globally than his.

The White House and the presidency will never be the same again and the Times' headline could not be more pertinent. Uncertainty has clearly gripped the world, and that's the only thing for certain.