Port Douglas resort named among Australia's best…again
PEOPLE'S CHOICE
Last updated:

---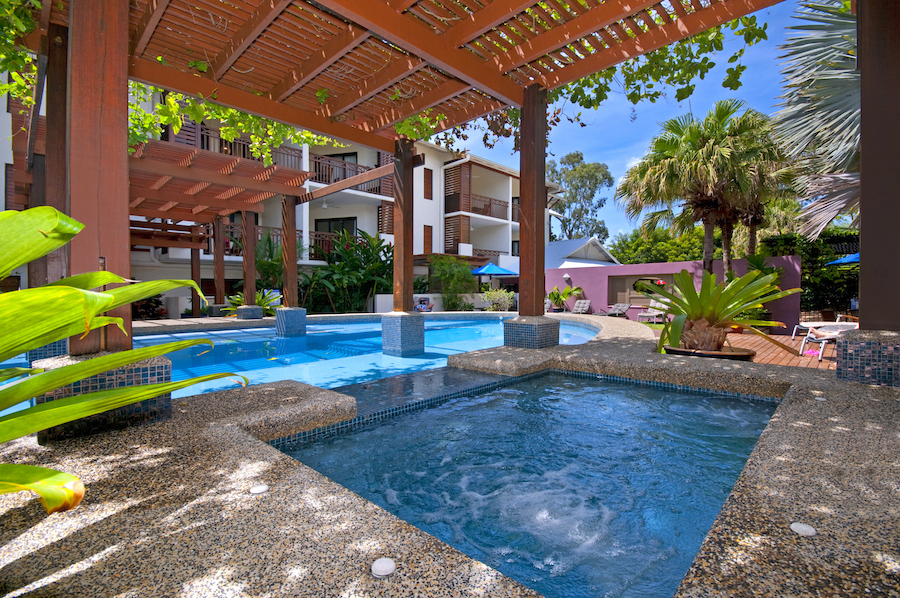 Freestyle Resort in Port Douglas was voted among Australia's best on TripAdvisor. IMAGE: Supplied.
HOLIDAYMAKERS just love staying at this Port Douglas resort.

Freestyle Resort Port Douglas has once again taken out a national TripAdvisor's 2017 Travellers' Choice Awards, ranking number 13 in the Top 25 Hotels in Australia category.
It is the Far North Queensland resort's sixth gong with TripAdvisor, previously being awarded in the Top 25 Hotels in Australia in 2015, 2014 and 2013, plus in 2013 it took places in Top 25 Hotels in
the South Pacific and Top 25 Hotels for Service in Australia.

Hosts Jason and Anne Moore, who have managed the resort for 16 years, attributed the award to following through on commitment to their guests.

"It reinforces the most important thing in hospitality – top level customer service and making sure our guests are number one priority," Moore said.

"It's reflected in our online reviews," he said in reference to the 95% of guests who reviewed the property on TripAdvisor as excellent or very good.

"It means the world to us – we've always kept the property in near new condition, the guests appreciate that."

The centrally-located resort, featuring 31 one and two bedroom self-contained apartments fully refurbished in 2014, immerses guests into a tranquil Tropical North Queensland oasis, with manicured gardens and a huge 55,000 litre heated pool and spa the focal point of the property.

With Port Douglas experiencing a marked upturn in tourist and accommodation numbers in 2015 and 2016, north Queensland holidays seem to be back on the rise, with Cairns, Lizard Island, Palm Cove, Harvey Bay and Rockhampton also featuring in the 2017 awards.

Eleven Queensland resorts featured in the top 25 this year, auguring well for the state's tourism industry in the lead-in to the 2018 Commonwealth Games on the Gold Coast.

Moore said working with Cairns' Pinnacle Marketing to promote the region's resorts both domestically and internationally had helped provide the results and generate interest in the region.

Tourism Port Douglas and Daintree Executive Officer, Tara Bennett, congratulated the Freestyle team, and thanked them for all their hard work promoting the region.

"I love seeing people's hard work recognised and that is certainly the case with Freestyle receiving 13th best hotel in Australia by TripAdvisor," she said.

TripAdvisor 2017 Travellers' Choice Top 25 Hotels

1. Pinetrees Lodge, Lord Howe Island, NSW ?
2. Ovolo, Wolloomooloo, NSW ?
3. Park Hyatt Sydney, NSW ?
4. Qualia Resort, Hamilton Island, QLD ?
5. Ovolo 1888 Darling Harbour, Sydney, NSW ?
6. East Hotel, Canberra, ACT ?
7. Freshwater East Kimberley Apartments, Kununurra, WA ?
8. Cairns Coconut Holiday Resort, QLD ?
9. Primus Hotel Sydney, NSW ?
10. BIG4 Beacon Resort, Queenscliff, VIC ?
11. Emporium Hotel, Brisbane, QLD ?
12. Emirates One&Only Wolgan Valley, NSW ?
13. Freestyle Resort, Port Douglas, QLD ?
14. The New Inchcolm Hotel and Suites Brisbane, QLD ?
15. Tryp by Wyndham Fortitude Valley, QLD ?
16. Alex Perry Hotel and Apartments, Brisbane, QLD ?
17. RACV Torquay Resort, Torquay, VIC ?
18. Art Series – The Larwill Studio, Melbourne, VIC ?
19. Best Western Chaffey, Mildura, VIC ?
20. Grange Resort Hervey Bay, QLD ?
21. Empire Apartment Hotel, Rockhampton, QLD ?
22. Lizard Island Resort, QLD ?
23. The Darling, Sydney, NSW ?
24. Paradise on the Beach Resort Palm Cove, QLD ?
25. Park Hyatt Melbourne, VIC ?