Mistreated puppies seized at rural property
PUPPY FARMING
Last updated:

---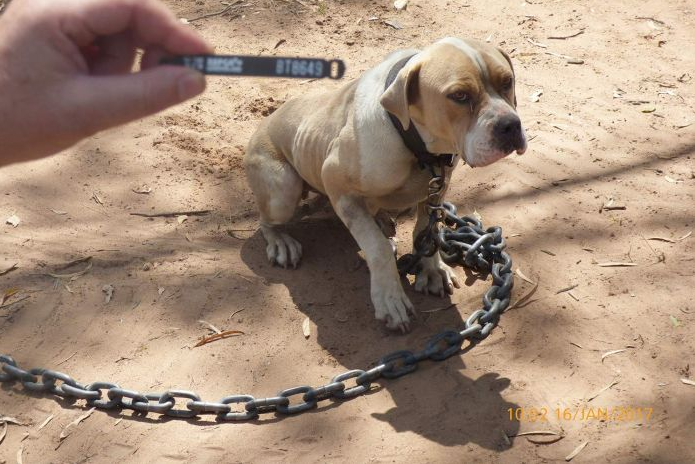 One of the mistreated dogs at the property. IMAGE: RSPCA
THE discovery of malnourished dogs, some in need of urgent veterinary care, at a remote rural property near Goondiwindi has angered Agriculture Minister Bill Byrne.
The Queensland Government is cracking down on 'puppy farms' across the state, with Byrne saying they will wipe out cruel and unethical exploitation of dogs for profit. The Queensland Police Service and RSPCA executed an operation to rescue 91 animals from the property at Glenarbon.

"We will not tolerate animal cruelty on any level," Byrne said.

"We went to the election promising to shut down puppy farms and we have worked with the RSPCA and responsible breeders to it. Our new dog breeder registration laws are designed to make it impossible for unregistered operators to function.

The RSPCA estimate there were at least 100 operations across Queensland last year. They are notoriously difficult for the authorities to find and close down, which prompted the Protecting Puppies legislation. By May 26 this year all breeders will need to register and provide a supply number when selling, giving away or advertising a dog.

"All those who are seeking to buy a puppy will then be able to know instantly if the pet is being supplied by a breeder who is registered and complies with legislation," Byrne said.

"In this way, with the help of Queenslanders who buy puppies, we will be able to drive the rogue operators out of business. The RSPCA will know where all the breeders are located and will be able to inspect their premises to confirm that all dogs are being treated well, exercised, properly fed and watered and professionally cared for when they fall ill."

Penalties applicable in Queensland for animal cruelty were among the most severe in Australia with those guilty of breaching a duty of care punishable by a fine of up to $36,570, or one year's imprisonment.

"For the most severe cases of animal cruelty the courts can impose a maximum fine of $243,800 or a jail term of three years," Byrne said.


If you have any concerns about the welfare of animals in Queensland you can report these to Biosecurity Queensland on 13 25 23 or the RSPCA on 1300 ANIMAL.