Latest crocodile plan at odds with Douglas community
CROC STRATEGY
Last updated:

---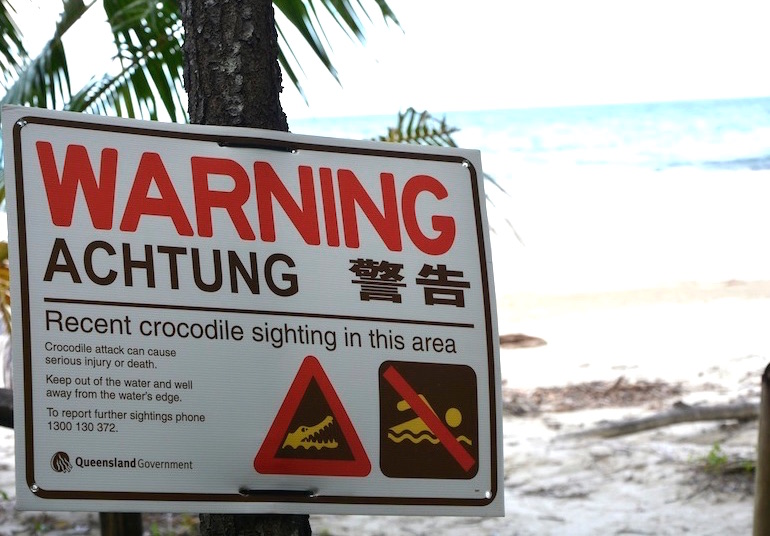 The Queensland Government believe its doing a good job managing crocodiles in Far North Queensland. Do you? IMAGE: Newsport.
THE latest figures spruiked by the Queensland Government about its 'proactive' crocodile management flies in the face of public sentiment expressed across the Douglas Shire.

The Port Douglas and Daintree communities have been so concerned about the growing number of crocodiles in the region it prompted the local Council to hold a public forum on the issue in November, inviting members of the Department of Environment and Heritage Protection (EHP) to attend.


Tourism operators across the region engaged in heated discussion with the EHP, many claiming they were too slow to act on several reported crocodile sightings. Another forum was held in Port Douglas later that month with shadow minister Tim Nicholls hearing from several concerned community members.

Environment Minister Dr Steven Miles boasted in a statement yesterday that the Labor Government had 'ramped up' its commitment to crocodile management by conducting 373 targeted crocodile management operations this year, compared with 151 in 2014. He said there had been 53 crocodiles removed 'from the Cairns area' in 2016, which is irrelevant information for the Douglas Shire considering it is attached to a different crocodile management zone (Zone 3).

It's why there is a growing push for Port Douglas to be included in Zone 2, the same as the Cairns Regional Council, which allows for the removal of all crocodiles bigger than two metres. As it stands, wildlife officers will not remove a reported crocodile in Port Douglas if they deem the animal 'is just moving through the area or the area is well-known crocodile habitat', meaning many reported crocodiles in Port Douglas are often ignored, including the ones near the main swimming area at Four Mile Beach.


"Labor's approach has typically been wait and watch for crocodiles to display aggressive behaviour and then think about doing something," Nicholls told Newsport after his visit to Port Douglas.

"That's not good enough. Locals, along with domestic and international visitors, need to have more confidence that their personal safety matters."

However, Dr Miles believes his Government is delivering a 'robust crocodile management program' compared to the Liberal's 'who were all talk and no action.'

"Better funding, targeting and management of the Crocodile Management Program and its assets, has increased sharply our ability to respond," Dr Miles said.

"There have been more crocodiles removed from North Queensland waters in 2016 under the Palaszczuk Government than in the last five years."

A population-monitoring program will launched in 2017, while the state Government has invested heavily in a new fleet of vessels designed to better navigate coastal and estuarine waterways and target crocodiles of concern, according to Dr Miles.

Do you think the Queensland Government is doing a good job managing crocodiles in our region? Have your say in the comments below!