I'm here for the party? Huge crocodile crashes backyard shindig
PARTY CROC
Last updated:

---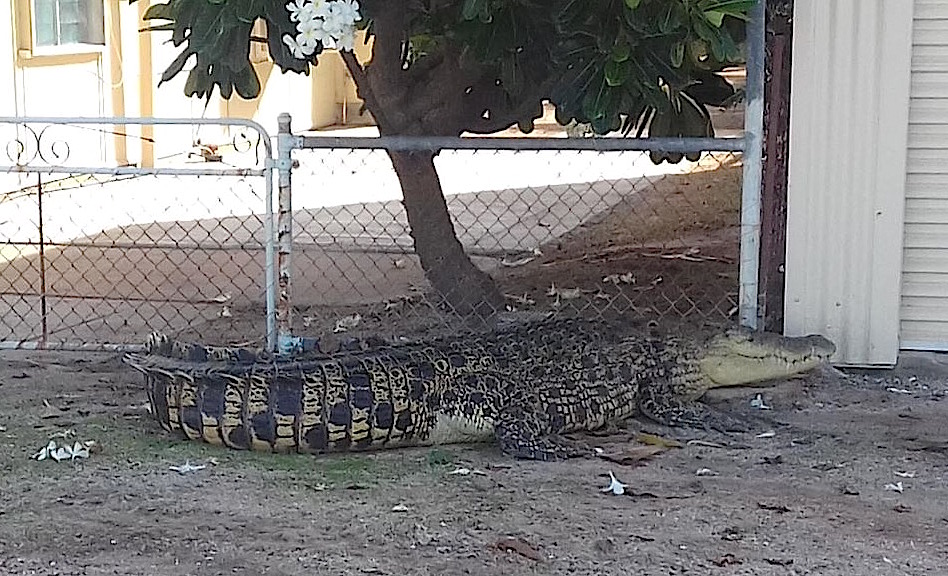 PARTY CROC: A three-and-half metre crocodile was keen to celebrate on New Year's Eve when it crashed a party in a remote Far North Queensland town. IMAGE: Queensland Police.
A THREE-and-a-half metre crocodile was in the mood to party on New Year's Eve when it rocked up, uninvited, to a Karumba home.

Police were called when the massive reptile was discovered chilling at the digs as the tiny town prepared to bring in 2017 with a bang.
The croc swaggered up the street - Conor McGregor style – making himself at home in the backyard on the Esplanade of the remote Far North Queensland town.

The rowdy croc was early to the party, arriving around 6am on December 31 before deciding he'd like to greet guests outside the front gate, where he stayed for the rest of the day.



Officers and locals initially arranged a line of wheelie bins in an attempt to funnel him back towards the water, but it was clear he wasn't keen to move until at least bringing in the New Year.

So the party was set up around him, officers boxing in the superfly snapper with hay bales until wildlife experts from Cairns arrived to chauffer him home.

Word is he's just come good from his big night out in time for the weekend. Anyone throwing any parties tonight?