Celebrating 22 years of sailing for the 'Clipper Cup'
Celebrating 22 years of sailing for the 'Clipper Cup'
Published Thursday 21 January 2016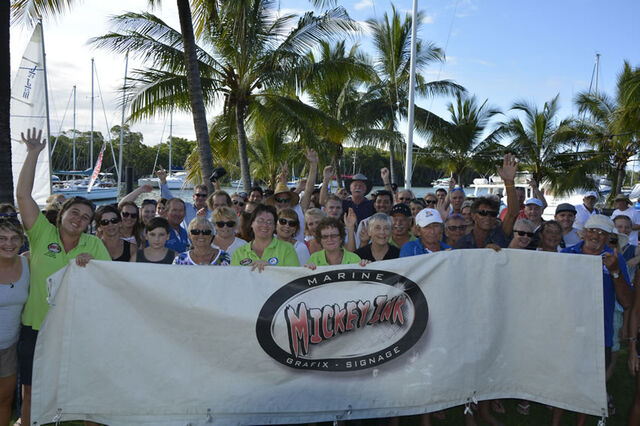 Port Douglas Yacht Club (PDYC) launched the Mickey Ink Port Douglas 2016 Race Week with an expectation of 50 participants this year during the race week from 27th April to 2nd May.

RELATED:


<link yacht-club-s-kitchen-demolished.13379.0.html>Yacht Club Kitchen Demolished
<link big-plans-for-the-future-of-port-douglas.13189.0.html>Big Plans for the Future of the Port Douglas Yacht Club

What was once called the "Clipper Cup", the PDYC have rebranded the event as an established event on the sailing calendar as the Port Douglas Race Week.

Celebrating its 22nd year, the Mickey Ink Port Douglas 2016 Race Week has evolved since its inaugural Mirage Resorts Clipper Cup in 1995.

The trophy had been collecting dust in the archives of the Cruising Yacht Club of Australia for several years before being donated to the Port Douglas Yacht Club.

The inaugural regatta attracted 44 entries from as far afield as PNG, New Zealand, Victoria and New South Wales. The seven race series commenced with the first three races staged by Cairns Yacht Club with the fourth being a 40km passage from Cairns to Port Douglas followed by three further races staged by Port Douglas Yacht Club.

Today the trophy sits proudly on display at Port Douglas Yacht Club and is the trophy for the regions premier sailing event.

PDYC Sailing Events Manager, Kristie McDowall, said they are expecting big numbers participating this year and are aiming for 50 entrants.

"Last year we had 34 and this year we are hoping for 50. We have had participants from Cairns, Bowen, Townsville and Mackay," she said.

The Port Douglas Race 2016 Race Week has attracted one of the top race directors, Greg Sinclair, who has been recommended by Dennis Thompson, the most renowned racing director in Australia.

"Greg Sinclair's qualifications come highly recommended by Dennis Thompson as his 'right-hand-man'," said Ms McDowall.
Platinum sponsor for the second year, Mickey Ink Marine Grafix and Signage owner Mickey Dousset said she is looking forward to this year's event.

"I will be racing my vessel Berocca Daze this year with a crew of eight. I have been a competitor for years," said Ms Dousset.

A graphic artist and sign writer for 12 years, Ms Dousset specialises in boat signage from small recreational vessels to commercial vessels participating in the Sydney to Hobart Yacht Race.

As an owner of a uniquely decorated yacht Berocca Daze, Dousset said that boat wraps are becoming very popular in the industry. With her expertise to design, produce and install her designs, Dousset said she has captured a niche market.

"The designs on my vessel stem from old school nautical themes referred to as 'boat ink' and they are becoming extremely popular with boat wraps that envelope the whole vessel. With my own vessel's boat ink, this gives a great indication as to how well it wears," she said.

With the expectation that the 2016 Mickey Ink Port Douglas Race Week will be bigger and better this year, participants need to be quick to register. Registrations are now open online for participants as well crew members on the Mickey Ink Port Douglas 2016 Race Week website: Port Douglas Race Week

"The PDYC is very keen to increase the local interest in sailing and would encourage the local community to register as crew members, no experience is necessary. We also encourage anyone from our southern states who want to escape the cooler weather to also register," said Ms McDowall.