Work starts on Port Douglas entrance roundabout
Thursday January 15 2015, 4:05pm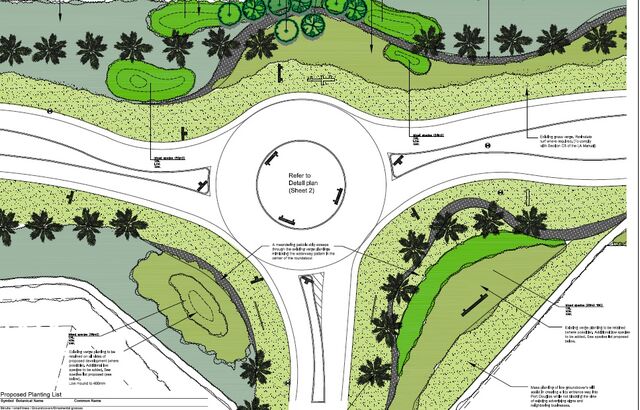 Work has begun on a controversial upgrade to the Port Douglas entrance roundabout but the final form of what will occupy the central circle has yet to be decided, while Douglas Shire Council has been applauded for fighting for the community's desires on the project.
Crews from contractor Papillon Landscapes have already constructed the base of garden beds on the western verges of the roundabout, with rock swales and other drainage elements going in soon.
Plants for the garden beds are scheduled to arrive early next week, with work on the eastern side of the roundabout, including the verges of Port Douglas road, also due to begin in that time.
Community reaction to the design of the roundabout has been negative, thanks mainly to State Government requirements that restrict any decoration in the central circle to low-profile concrete constructions.
Residents have taken to Newsport and its Facebook page to express their desire for a more elaborate central design that featured trees, but the State Government has refused to budge, citing safety concerns.
Papillon director Peter Murphy said his staff were working hard despite the heat, and complimented Douglas Shire Council on its efforts in lobbying the government for a less spartan roundabout design.
"Council's been working very hard and trying to work with the Government as much as possible but their hands are tied a bit," Mr Murphy said.
"They've looked at every possible option."
The central circle of the roundabout remains untouched as work proceeds on the verges, while council and other bodies debate the final form of the decoration that will be placed there.
An accurate end date for the project will be available when the final form of the central circle is decided.