Unique agritourism business opens in Miallo
Monday January 26 2015, 12:00pm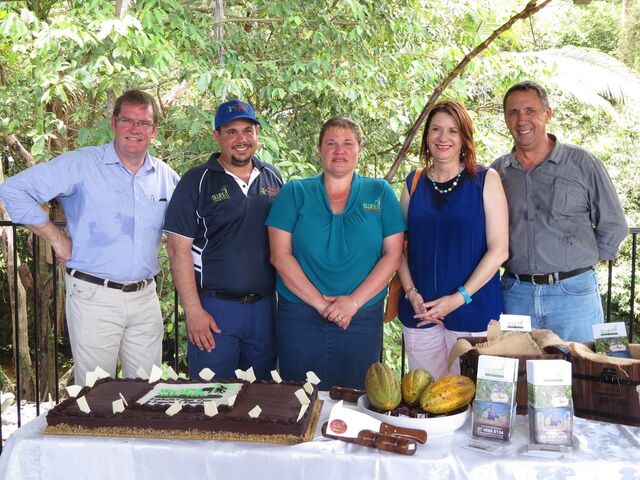 Australia's first cocoa and sugar farm tourism business has been officially opened in Miallo.
Queensland minister for Agriculture John McVeigh joined Member for Cook David Kempton and Douglas Shire Council mayor Julia Leu in opening Sweet Farm Tours on January 17.
Sweet Farm Tours is run by husband-and-wife team Gerad and Therese Puglisi, and offers sessions of up to 40 people tours through all aspects of the farm's sugar and cocoa operations, including the history, machinery and products derived from each crop.
Attendees are also given a taste of a selection of Daintree Estate chocolates, which are made using Sweet Farm cocoa and sugar.
Mr Puglisi said the decision to move into agritourism was based on several factors.
"Aside from us there's only one or two other cocoa farms out there so it's a very interesting opportunity for people to see one of the few Australian cocoa farms in operation," he said.
"In addition to that, most of the other official sugar tours are in places like Tully and Mackay, so we are a place that people can tour a sugar operation in this part of Far North Queensland."
Most of the businesses' customers so far have been tourists driving past the farm but the tours have also proved popular with groups of farmers from the southern states that grow other crops like wheat and want to see a sugar or cocoa operation.
Although the farm has been operating since August, a visit from the State Minister for Agriculture John McVeigh on January 17 marked the official opening of the farm.
Mr McVeigh lauded the entrepreneurial spirit of the Puglisis and said they were combining two key aspects of the Queensland economy.
"Agriculture and tourism are two of the four pillars of the Queensland economy," Mr McVeigh said.
"I am very impressed with the Puglisis' enthusiasm and skill in going beyond just producing a commodity - instead, they have value-added to their business."