New teachers 'settling in' at Port Douglas State School
Wednesday January 28 2015, 5:00pm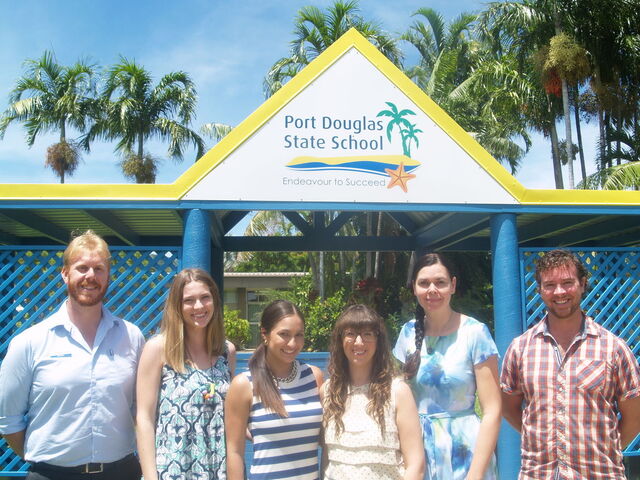 The start of the 2015 school year at Port Douglas State School (PDSS) isn't just a new start for students - several teaching staff are also beginning their tenures.
New teachers Sian Carr, Maree Power, Jade Philp, Ian Bilney and Sherridan Wrobel say they are looking forward to settling in at the school.
Ms Power, Ms Wrobel and Ms Philp were all educated at the University of Southern Queensland
Mr Bilney previously taught in Byron Bay while Ms Carr taught at the town of Gifu in Japan.
All the teachers have wide capacities to teach all primary school year levels.
For Port Douglas local Ms Carr, it was a long-term personal goal to teach at PDSS.
"There is such a great community here in Port Douglas and Port Douglas State School is such a good school, I have always wanted to work here and now I'm looking to put down roots," she said.
Ms Power said it was an obvious choice to work in Port Douglas.
"Why not? It's a beautiful place and a beautiful community. I'm very happy to be here."
Ms Philp said she was looking forward to helping the school realise its goals, including maintaining a high attendance level and for students to score more A's than D's.
"I'd also like to have fun here," Ms Philp said.
Principal Benjamin Gaske said it was good to see new teachers at the school especially with enrolment numbers staying the same.
"We've had a bit of natural turnover with retirements and long-term leave," Mr Gaske said.
"We're lucky to have a good relationship with the University of Southern Queensland and we have three of their graduates here now."
Mr Gaske said the first priorities for the school were settling students into classes.
On the critical eighth day of schooling for the year the school will be able to finalise its enrolment headcount for the year.