Indigenous trainees graduate from Mossman Gorge Centre
Wednesday January 7 2014, 9:14am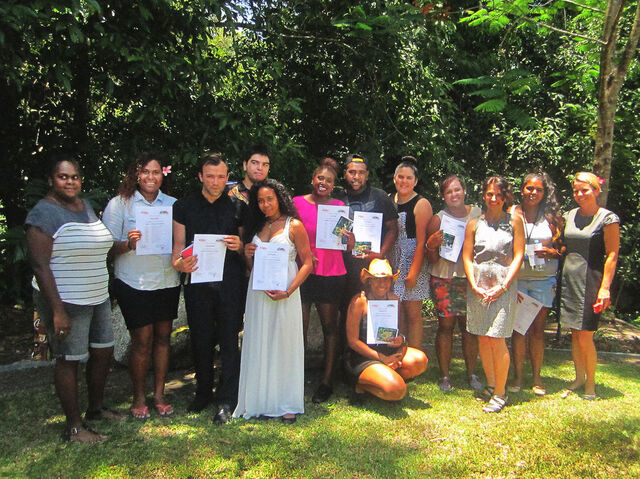 The first class of 11 Indigenous trainees at Voyages Mossman Gorge Centre in the Daintree National Park recently graduated from traineeships delivered in partnership with William Angliss Institute.
The trainees at Mossman Gorge were selected primarily from remote and regional communities in Queensland and have completed a full-time six month traineeship leading to a Certificate III Hospitality.
As part of the recruitment and selection process, students completed a range of pre-employment training.
The traineeship included practical skills and personal development.
William Angliss Institute manager of national training Karon Hepner said this traineeship is designed to provide opportunities for local Indigenous people to join the Mossman Gorge Centre as well as encourage Indigenous employment at key hotels in the region.
"We are very proud of our first Mossman Gorge graduates. Part of the training-to-employment strategy was to ensure the successful completion of the traineeship and transition into employment," Karon said.
All trainees are offered employment on successful completion of their qualifications.
Locally based hotel operators in the Port Douglas and Cairns region are the principal employer hosts for the Training Centre, with trainees placed through the Mossman Gorge Training Centre.
Industry support has been integral to the program's success with major hotels including Accor's Pullman Sea Temple, Mantra Group's Peppers Beach Club and Mantra Portsea, Sheraton Mirage, QT Resort and Spa, Silky Oaks Lodge and Rendezvous Reef Resort hosting trainees and offering employment to graduates.
The successful partnership between William Angliss Institute and Voyages accredited Indigenous training centres will continue with a new contract signed for a further three years commencing in 2015.
Established in 1940, William Angliss Institute has a long history of community support and specialist industry training and also delivers training for Indigenous students at Ayers Rock Resort in the Northern Territory and Home Valley Station in Western Australia.
The $20 million eco-tourism development at the Mossman Gorge World Heritage Site, which opened in June 2012, runs daily Ngadiku Dreamtime Walks that provide one of Australia's most iconic Aboriginal experiences. The Centre won the Queensland Tourism Award for Indigenous Tourism in 2014.