'Keen shooters' turn out at Mossman Rifle Club
Monday February 2 2015, 2:22pm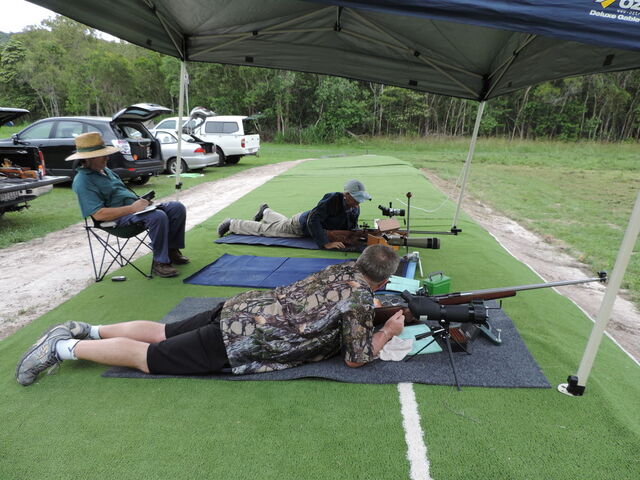 By Steve Cruickshank
Saturday saw four keen target shooters turn out for a very challenging 600 meter range.
Norbert Schmidt took out the F class comp ( scoped 308 with tripod rest) with a grand score of 120/8 folloed by Mark Gaulston in second with a low score of 78 from a possible 126.
Rick Mischlewski took honors in the Full bore comp (Open sighted 308 with manual rest ) with a double range score of 99/7 from a possible 105, followed closely by Neil Attwood on 95/4.
A scattered cloud cover gave the target a camouflaged look along with a vigorous mirage and a very humid day with sweltering heat was a real challenge for the shooters to contend with.
Norbert Schmidt opened with a 5 and a 6 for sighters, he cut the 5 and went on to score a swag of 6's and a few 5's and one 4 to post a first range tally of 56/1 from a possible 60 in the ten shot match.
Mark Gaulston was next to compete with his trusty mechanically supported 308. Mark opened with low scores and went on to have trouble finding the center posting a score of 37 from a possible 60.
Neil Attwood was next to shoulder his Full bore rifle. Neil opened with Bulleyes and went on to post a very good score of 47/3 from a possible 50 in the ten shot match.
Rick Mischlewski was last man down to compete in the Full bore comp.Rick opened with a 4 and then shot quite a few V bulls and bulleyes to post a first range score of 46/3 .
Schmidt was back for his second 11 shot range. Norbert opened with bulls eyes and went on to shoot a near perfect score with a tally of 64/7 from a possible 66.
Gaulston was back to try his luck and better his first score. Mark opened with low scores and then went on to post a second range tally of 41 from a possible 66.
Attwood was next to compete in the Full bore match. Neil opened with a bulls eye and then went on to shoot a mixed bag to post a final score of 48/1.
Mischewski was the last man down again to shoulder his rifle. Rick opened with Bulls eyes and then continued to squeeze off a string of Bull eyes and V bulls and one super V bull to finish with a final score of 53/4 from a possible 55.
The club would like to thank Jed Kemp for doing the marking and Ron Schild for scoring.
We would like to invite anyone who in interested in this very relaxing sport to either contact Ron on 40988244 or come along on the day. We meet at 1:00 pm sharp every Saturday at the range situated half way between Port Douglas and Mossman on the Cook Highway. See you there.