Council to honour legendary volunteer with community garden
Monday February 2015, 9:30am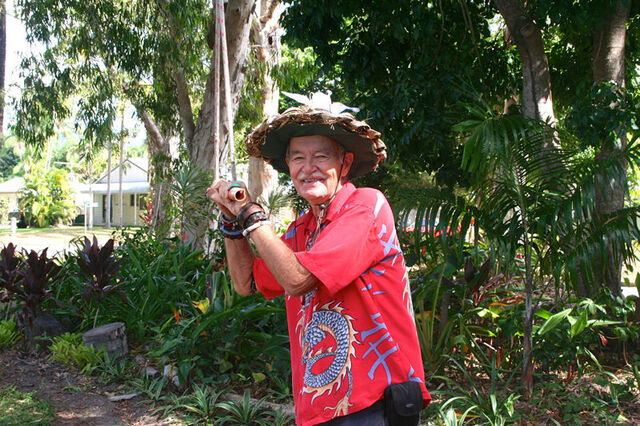 Douglas Shire Council will enhance and dedicate a small garden in honour of tireless volunteer James Watson as part of an overhaul of the Nautilus St nature strip in Port Douglas.
Mr Watson contributed hundreds of hours to beautifying the nature strip in recent years but has had to retire his Nautilus St community gardening gloves for health reasons.
Council invited expressions of interest from community groups or individuals interested in assisting to maintain the extensive Nautilus St gardens but received no response.
General Manager Operations Paul Hoye said Council will take control of the Nautilus St nature strip due to the lack of community involvement.
"Council acknowledges James' many years of hard work and dedication on the gardens but without community support the gardens cannot be maintained in their present condition," Mr Hoye said.
"Council intends to enhance and dedicate a small garden in honour of James around the already installed plaque in his honour on the western end of the nature strip.
"While the core of the gardens will be retained, the garden beds will be reduced in size to allow for easier maintenance and access, with turf areas increased."
Work will begin soon to remove weeds and unsuitable plants including Moses in a Cradle (Tradescantia spathacea), Purple Joyweed (Alternanthera brasiliana), Mother-in-Law's Tongue (Sanseveria trifasciata), Travellers Palm (Ravenala madagascariensis), Singapore Daisy (Sphagneticola triflobata), Fish Bone Fern (Nephrolepis cordifolia), Red Ivy (Hemigraphis colorata) and Arrowhead Vine (Syngonium podophyllum).