CFN Rep team has Port Douglas Vice captain

CFN Rep team has Port Douglas Vice Captain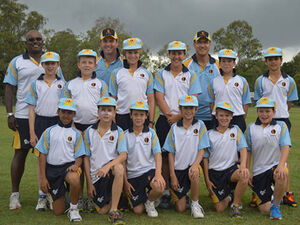 By Roy Edward

The Cricket Far North (CFN) was represented in the Ian Healy Cup tournament for under 12s held in Brisbane between January 6th and 10th, 2014.

The team finished a creditable tenth on the ladder.

Matthew Reichardt had the highest number of stumping (5) and three catches for the tournament.

Tristan Burford-Baynes was CFN's best bowler with figures of 4 wickets for 13 against the Gold Coast off 7 overs, which included 2 maidens.

Our top batsmen over the five days were Matthew Reichardt (62), Ethan Radel (46) and Lane Hanush (34). Mason Blaney on 32 was the backbone of the middle order.
The bowling honours went to Tristan Burford-Baynes (9 wickets) and Lane Hanush (8 wickets), Isaac Gee, Ethan Radel and Port Douglas' Joshua Edward who was also Vice Captain took 4 wickets each for the tournament.
Ethan also took the catch of the team on day 5 whilst fielding at point.