Rotation policy may injure fast bowlers
Rotation policy may injure fast bowlers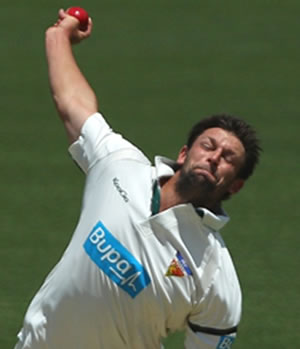 Sport scientists say Cricket Australia's 'rotation policy' for fast bowlers may be contributing to, rather than protecting them from, injuries.

Victoria University exercise and sport physiology researcher Dr Robert Aughey along with PhD candidate and ex-state cricketer Mathew Inness have questioned whether Cricket Australia's approach to managing player workloads was based on the best science.

"We agree that an evidence based approach to workload management is critical. However problems can arise from incorrect interpretation of load management data and this is what we believe may be happening in the way fit players are being rested," Inness said.

Inness said research shows athletes tolerate constant workloads better than workloads with large variations over short periods, while large variations not only impact on performance but may also contribute to injury.

"When a player is rested, there is a dramatic drop in the number of balls bowled, even allowing that the player will likely bowl during training," he said. "When the player returns to matches, their load is drastically increased from previous weeks, causing large variations in balls bowled."

Inness used Ben Hilfenhaus as an example. In the lead up to his side strain injury in the Hobart test match in mid-December, the Tasmanian fast bowler had a large variation in the number of total weekly deliveries he bowled in matches: 287, 0, 321, 0, 0, and 74.

Hilfenhaus was not selected for the Perth test against South Africa (nearly three weeks before the Hobart test), whether through form or fitness, and therefore had close to three weeks between the 321 deliveries he bowled in the Adelaide test and the 74 deliveries he bowled in Hobart before being injured, Innes said.

"The ideal situation for an athlete would involve a steady progression in workload, combined with periods of slightly lower activity, thus allowing adaptation and therefore greater fitness and resilience to injury. We acknowledge the increasingly packed international schedule makes this extremely challenging – but the current rotation policy does not allow for this," he said.

The issue of better managing workloads for bowlers also needs to begin earlier, he said, so promising young players could be adequately prepared for the high workloads required by international cricket.

Rules state that Under-17 bowlers are permitted to bowl no more than 16 overs per day, with a maximum of six overs per 'spell'. Under-19 bowlers can bowl no more than 20 overs per day, with eight overs per spell. On top of these restrictions, both U17s and U19s must rest for a given timeframe before bowling again.

"This policy seems to have lowered injuries for underage bowlers, but seems to fail to prepare players for international competition," he said. "A system that artificially creates large increases in load for younger players, coupled with acute periods of large variation in load seems destined to cause injury."

"The challenge for Cricket Australia is to strike a better balance between rest and regeneration and ensuring adequate and consistent load to build capacity and resilience in players young and old," he said.