Paws for thought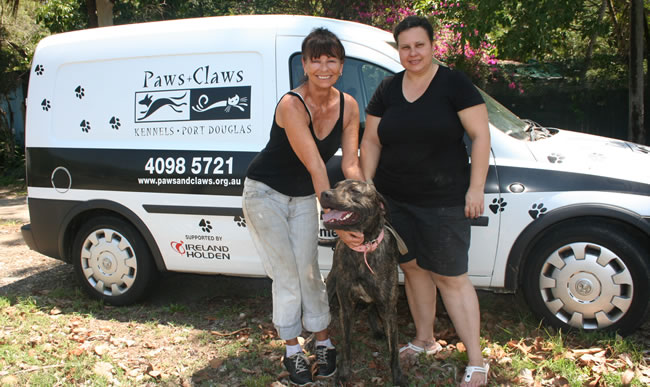 In what could be described as a pre-emptive strike, local animal refuge Paws and Claws is sending a strong message to pet owners to avoid the historical post-holiday influx of unwanted pets.

Paws and Claws' Bianca Maguire warned pet owners, particularly those who received a puppy during the festive period, to take action now to avoid problems later.

"When people take animals over the holiday period, which is great because they've got the time, it's also a negative because they spend all this time with the dog or cat and then all of a sudden they're (the owner) gone. They've gone to work or to school and the dog is bored," Ms Maguire said.

"He's had all this attention for a month or six weeks, and then nothing. So owners need to make sure they prepare for the time they go to work, and they've got to remember that by the time they go to work the puppy will be about three months old and going through the digging stage and the chewing stage.

Pictured: Paws and Claws' staff Julie Robertson and Bianca Maguire urge new dog owners to get prepared for their return to work and school.

"They really need to prepare more for that, than actually prepare to have a dog (in general)."

Ms Maguire offered this advice to minimise the impact on the dog and subsequently the owner.

"Start leaving the dog at home alone for short periods of time, and then extend it and extend it until it's used to being on its own during the day.

"If that doesn't work, they need to put it in a smaller enclosure for when they're away so he (the dog) knows that that's his little area when no one is home.

"Animals work well with a routine," she said.

Ms Maguire said some new dog owners are simply oblivious to the demands of pet ownership, and in their frustration discard their pet at a refuge such as Paws and Claws.

"Nowadays they have nice, immaculate gardens and then they come home and their nice, immaculate gardens are all on their front lawn, and their brand new shoes they've got for Christmas are chewed and the toys are chewed.

"Get them prepared, start it now. If they're unsure there are plenty of books out there that can assist...there's information on the internet as well.

"This transition from holidays to work, owners don't see it as a big thing. But to an animal who has had all this company to having nothing it is a big deal."