Heatwave prompts water restrictions
Heatwave prompts water restrictions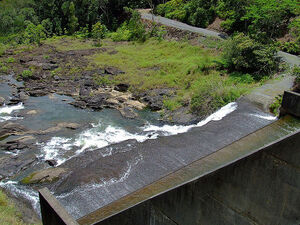 This extended period of dry weather and dropping levels at Copperlode Falls Dam has prompted Cairns Regional Council to impose Level 1 water restrictions.
The region has recorded its driest December since 2005, resulting in increased water usage and a drop in the city's main water supply facility - Copperlode Falls Dam - to 79%.
Cairns Mayor Bob Manning said Level 1 water restrictions were triggered when the dam level dropped below 80% and it had been nearly five years since this had occurred.
"Given that the dam is dropping 1% every day, we could reach the 70% level in 10 days which will then trigger Level 2 water restrictions," Cr Manning said.
"While we are blessed to live in a part of Australia that generally enjoys good wet seasons, this does not mean we can become complacent when it comes to water.
"It has been particularly dry over the past few months and with predictions that the monsoon season will be later than normal, we must all ensure we look after this finite resource carefully."
Residents have consumed approximately 82 million litres of water a day since Christmas Day, with the current usage of around 250 litres per person per day. By going to level 1 restrictions, Council's aim is reduce consumption by 10%.
The Level 1 water restrictions apply to the whole of the Cairns Regional Council area and relate only to the times when watering gardens via a sprinkler system is permitted. However, all residents and businesses are advised to be conscious of their water consumption and conserve water where possible.
Under Level 1 water restrictions:
Sprinklers may only be used between the hours of 6am-8am and 6pm-8pm
Odd-numbered houses (ie street number ending with 1, 3, 5, 7 or 9) are permitted to use sprinklers on Tuesdays, Thursdays and Saturdays only.
Even-numbered houses (number ending with 0, 2, 4, 6, or 8) may use sprinklers on Wednesdays, Fridays and Sundays only
No sprinkler use is permitted on Mondays.
Hand-held hoses with a trigger nozzle, watering cans and buckets can be used at any time.

Even with the 30ml of rainfall that most areas have enjoyed over this weekend it will take a sustained period of rainfall to make a significant difference to the water catchment.
For more information on ways to conserve water, visit www.cairns.qld.gov.au