Grabau relishes return to Marlins colours
Grabau relishes return to Marlins colours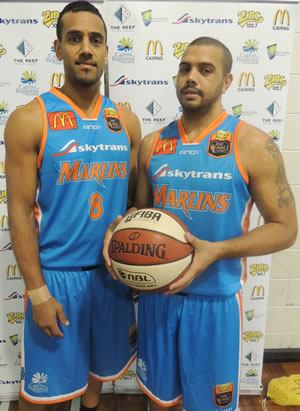 Tonight's Heritage Round game in Perth won't be the first time Skytrans Cairns Taipans guard Aaron Grabau has faced Perth forward Shawn Redhage in a Cairns Marlins uniform.

Grabau will be wearing the same colours he wore as a member of the 2004 ABA national champion Cairns Marlins, which beat Redhage's North-West Tasmania Thunder 104-100 in the final.

Assigned to guard Redhage in the second half of that game with the Marlins behind by 20 points, Grabau locked down the American forward to underpin the win and claim finals MVP honours.

"Ben Arkell and I started just switching everything. We just D'd him up, and I think that stunned him a little bit and they didn't know what to go to," he said.

"Then we just ran our game, a lot of run and gun style and on-ball screens, and blew them away from there."

Almost nine years later, Grabau says both men are markedly different players.

"He's a lot different now. Back then he was more of a post-up player, whereas now he's more of a jump-shooter," Grabau said.

"My game has changed a lot too. The older you get, you learn all the little tricks in drawing a foul and getting an open shot," Grabau said.

It's that constant evolution which led to Grabau's 11-point fourth-quarter outburst to win in Wollongong last Friday, and which has him atop the NBL in three-point shooting (55.2%).

However Grabau says it will take more than accurate shooting to take down Perth.

"Our rebounding has to improve – they killed us on the boards (on 5 January). They're a big, strong team and they crash the boards," he said.

"We have to rebound well. Then, if we can beat them up the court we can score … as they tend to beat teams in the half-court."

As for a direct matchup with Shawn Redhage?

"I don't know, I don't care who I guard, I'll just play. It doesn't matter who I guard, we just need to go out there and get a win."

The Skytrans Cairns Taipans tip off against the Perth Wildcats at 9.30pm Friday Cairns time.