Foodies unite in Carnivale talks

Foodies unite in Carnivale talks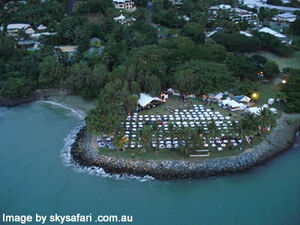 Talks between Carnivale organisers and a group of Port Douglas restaurant owners have stalled after a number of meetings were held to discuss how the ten-day Carnivale festival could be improved.

The Newsport believes the restaurateurs involved in the meetings included Jeff Gale from 2 Fish, Rhys Bawden from Salsa Bar & Grill, Reina Patrick from Harrison's, Wayne Stapleton from Lure Restaurant, and Andy Gray from Bel Cibo.

Backlash over last year's Food, Wine and a Taste of Port at Rex Smeal Park, where long queues hampered the event, provided the impetus for talks to begin. However, it appears that little progress has been made in the discussions.

The event, managed by Events NQ (which was purchased by a company owned by Bob and Claire Manning in October last year), conflicts with the popular Noosa Food and Wine Festival which traditionally runs on the same weekend.

Events NQ laid much of the blame for the 2012 difficulties at the feet of local restaurant owners who did not participate in Food, Wine and a Taste of Port, indicating demand for food and beverages far outweighed supply.

Meanwhile, the 2013 Carnivale Street Parade theme has been announced and will focus on 'Carnivale - what it means to you'.

"Carnivale means different things to different people, so this year we are going to celebrate this and see what people come up with," said Carnivale manager Ken Dobbs.

"We are looking forward to seeing the results and we know people are eagerly waiting to get started on their floats for this year. The street parade is easily one of the best in Queensland and we are excited about what 2013 will bring."

This year the parade will once again open the Carnivale program on Friday, May 17.

What does Carnivale mean to you? Tell us below.