Driver in top form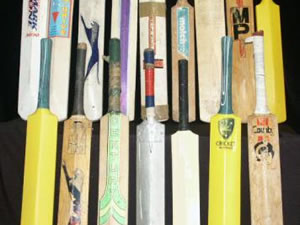 Sunday saw the Muddies Blue team head down to Fuller Park in Cairns for our 30 over match against Tully.

After winning the toss and electing to bat, Keith Taylor and Sam Hodgson set about constructing a solid total. Hodgson got of to a flyer scoring 30 runs off his first 13 balls before chasing one too many and departing on 42 off of only 28 balls, falling just short of a 50 two weeks in a row.

With the score at 1/60 Simon Cody arrived at the crease and continued the good work combining with Taylor for 15 until a horrible mix up running between the wickets saw Cody run out by a quarter of the pitch.

This started a horror over with debutant Logan Marsh departing for a golden duck, and two balls later Taylor ran himself out leaving the Muddies scrambling at 4/77.

Luckily, Mitch Driver stood up and, combining with Garry Postans (13), then Matt Chizzinotti (9), and finally Vic Chandra (26 off 14), departed after scoring 56 off 58 balls leaving the score at a respectable 7/177.

The tail brought the score to an even 200 to set Tully a pretty hard target to chase, but with the ground being small and fast we knew it would be a challenge to defend.

Tully got of to an indifferent start with the runs flowing but a couple of wickets falling early including a superb catch (if not catch of the season) from Logan Marsh at point.

The catch ended the day of Tully's dangerous opening batsman on 8 off the bowling of Driver who finished with 2/27 off 4 overs. Driver also picked up the 3 points for Man of the Match.

Skipper Cody stepped up to bowl after going for 14 in his only over so far this season. He surprised us all to collect the first maiden of the innings before collecting two valuable wickets for 18 runs off of his 6 overs.

With Garry Postans collecting 2/14 up the other end of his 6 overs we really had Tully bogged down at 6/79 off 20 overs.

Vic Chandra collected 2/11 and Sam Hodgson 1/10 to finish the game (and pick up 2 votes) with Tully all out 101 to win by 99 runs.

The next game on Sunday at home against Barron River starting 8.30am. The Muddies Green also play at home for a double header starting at 1.30pm so come down for food and drink to support the club with both teams looking in good form for a finals spot.