Don't miss Wilson vs Flynn
Don't miss Wilson vs Flynn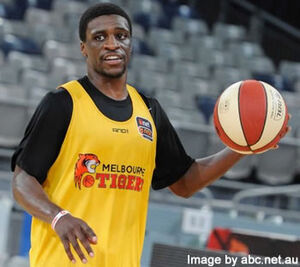 Tonight's Jamar Wilson's matchup with the Melbourne Tigers' NBA talent, Jonny Flynn, will be a spectacle not to be missed according to Skytrans Cairns Taipans head coach Aaron Fearne.

Flynn, who joined the Melbourne Tigers earlier this season, was the sixth pick in the 2009 NBA draft, playing three seasons there before being sidelined by a hip injury.

Since joining the NBL the livewire guard has wowed crowds across the country, averaging 17.1 points per game (third in the NBL), 6.2 assists (second) and 4.1 rebounds.

The Snakes mentor said tonight's game presented Cairns fans with a rare opportunity to watch NBA-level talent.

"You just don't get players with his credentials coming and playing back in Australia very often. He was the sixth pick in the NBA draft and was an amazing college player," Fearne said.

"He carries himself very well, he's been a great showman for the league and he plays with some flair and excitement. He's fun to watch," he said.

"If you want to see a high-quality player like that without hopping on a plane to the US, come and see Jonny Flynn play on Friday night."

While praising Flynn's contribution in raising the profile of basketball around the country, Fearne said his own point guard, Jamar Wilson, would relish the matchup with his New York compatriot.

The Tigers won their last encounter with Cairns behind Flynn's 20 points and teammate Chris Goulding's 27, but Wilson kept Cairns in the match until the end with his 26.

"Jonny can flat-out make plays, but so can Jamar. It was a real tussle between those two when we were last down there (in Melbourne)," Fearne said.

"Jamar will take it to him, he's a competitor. All those New York guys are very competitive."

Fearne said it would be the team whose defence best handled the opposing import point guard that would prevail.

"Obviously both Jonny and Jamar are both extremely valuable from a scoring perspective in both teams, so we as a team have to make life difficult for Jonny. I'm sure they'll be doing the same for Jamar."

"I'm sure it will be entertaining for the fans, no question."

The Skytrans Cairns Taipans host the Melbourne Tigers at the Cairns Convention Centre tonight at 7.30pm.

Tickets available online or via phone (07) 4041 3000.