Bendle shows Barron no mercy
Wednesday 23 January 2013
Bendle shows Barron no mercy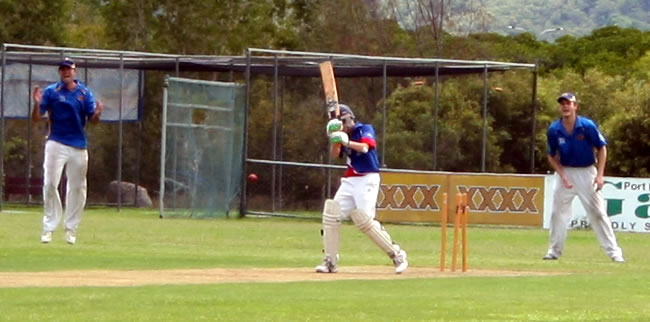 by Dave Johnson

After Saturday night's rain, Sunday's game was looking unlikely, but the rain held off and the Muddies Blue faced off against Barron River.

The pitch was in an interesting state having got wet due to a leak in the covers, and even after having been dried by a couple of leaf blowers borrowed from the council, it was always going to be difficult batting strip so winning the toss was going to be important. We lost and were sent into bat.

Keith Taylor and Sam Hodgson opened up again and put on a 55 run opening stand which was an invaluable start to the innings until Taylor was caught at mid off for 8 having been the rock around which Sam Hodgson was able to put on his third consecutive 40 (41 off 52 balls).

Pictured: Another Barron wicket falls as Muddies Blue continue their winning form.

After losing both openers in consecutive overs Simon Cody (17) was again in good form and combined with Alex Bendle (47) for a 71 run partnership which set up our 5/145 from 30 overs.

Knowing we had a competitive score but one which was easily gettable, we had to bowl well.

Adam Lucas, returning from the mines for the game, was instantly on the spot taking a wicket with his first ball and then picking up another in his second over finishing with 2/28 off 6 overs.

The wickets were shared with Garry Postans picking up 3/24, Mitch Driver 2/25, Vikas Chandra 1/3 and Alex Bendle 2/20, and with Bendle's runs he was awarded the man of the match.

The game was in the balance for the majority until a couple of key wickets fell with 10 overs to go. We were able to dismiss Barron River for 114 giving the Muddies a 31 run win to keep them in touch with the top of the ladder.

The next game is against Mareeba in Mareeba. A special thanks must go to our groundsman Troy Sheppard for his outstanding work in getting the pitch ready for both games. Also, a thanks to all the lads for getting to the ground a little early to help prepare the pitch.