Back to school reminder
Wednesday 23 January 2013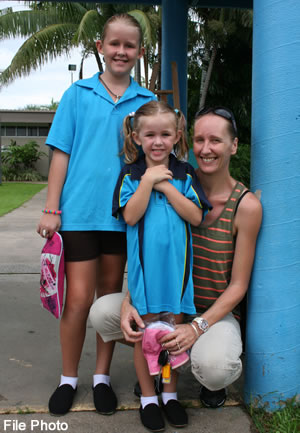 While it may seem a little strange given today's inclement weather, parents are being urged to stock up on SunSmart supplies in the back to school rush, with statistics showing high levels of sun exposure in childhood increase the risk of skin cancer.

According to the 2012 Chief Health Officer's Report, most sun exposure occurs in childhood years, with high levels a strong determining factor of the risk of melanoma.

Ultraviolet (UV) levels in Queensland are expected to be dangerously high when kids head back to school next week, reaching extreme levels during the peak UV period of 10am – 3pm, which occurs during school hours.

Cancer Council Queensland spokesperson Katie Clift said there were many tips parents and students could easily adopt in their daily routines to better protect themselves during school hours.

"While new school shoes, lunchboxes and books have become back-to-school musts, sunscreen and SunSmart supplies unfortunately often fall into the 'optional extras' list for many parents," Ms Clift said.

"Skin cancer remains one of the most preventable cancers, yet unfortunately, Queensland still records the highest rates of skin cancer in the world.

"The start of a new school year is a great opportunity to challenge your kids and young adults to think of new ways to make their daily school routines more SunSmart and encourage their friends and classmates to do the same."

Cancer Council Queensland has prepared a list of back to school SunSmart survival tips, to help busy families reduce their skin cancer risk.

Remember one is never enough
One method of sun protection is never enough. For best protection, you need to combine the five recommended behaviours: Slip on sun protective clothing, Slop on SPF 30 or above water-resistant, broad-spectrum sunscreen, Slap on a broad-brimmed hat, Seek shade and Slide on wrap-around sunnies.

Make being SunSmart a healthy habit
Being SunSmart should be seen as a healthy habit, just like eating breakfast! Why not combine the two and encourage your kids to apply SPF30 or above water-resistant, broad-spectrum sunscreen every morning after breakfast? This will help them avoid incidental sun exposure during the trip to school.

Keep track of the time
Sunburn can occur in as little as 15 minutes on a fine January day, and when you take into account physical education lessons, sports practice sessions and lunchtime activities, sun exposure can easily add up at the end of a school day. Encourage your children to seek shady areas where they can eat and play.

Think inside the (lunch) box
Keep small 35mL tubes of SPF30 or above sunscreen in the kitchen cupboard, and pop them into the whole family's lunch boxes every day. This will encourage them to apply sunscreen at lunchtime.

Be a SunSmart role model
Only 6 per cent of Queensland adults admit to taking all five recommended precautions during summer - Slip, Slop, Slap, Seek and Slide. We know children whose parents model sun protective behaviours are more likely to practice sun protective behaviours themselves, so make sure you lead by example!

Know the SunSmart rules at your school
Schools with a written sun protection policy have the greatest number of students and staff protecting themselves from the sun. So if your child's school is serious about sun protection, why not ask them to consider applying for SunSmart status?

Choose a hat that can keep up with them
Ensure your child has access to a SunSmart hat that protects their head, face, ears and neck from the sun. A drawstring also helps to keep their hat on their heads during fast-paced activities.

Pack spare sun protection supplies
Encourage your kids to keep a spare hat, tube of sunscreen and pair of sunnies in their school desk or locker. Don't forget the long-sleeve swim shirt on swimming days!