An inspiring start to 2013
An inspiring start to 2013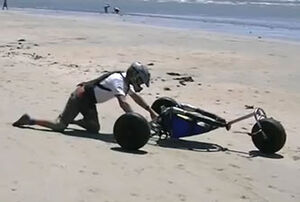 If you ever needed some inspiration to bring a new attitude into a new year, then this video is sure to give you the kick start you need.

Travelling filmmaker Clement Esso met with Rob, a South Australian man who packs up his kite buggy and heads north for the Port Douglas winters.

Stricken by debilitating encephalitis at the age of 24, Rob has a passion for life and a strength that you can't help but admire.

"Every year it's the same story, we all receive many wishes recycled from the year before or even just forwarded from another person," said Clement after his encounter with Rob.

"This year I decided not to do that. I'm not saying that I've never done it or that I will never do it again but at least this year I'll do things differently.

"During my time in Port Douglas I decided to learn (to) Kite Surf. I drunk a lot of seawater trying and also met many interesting people. And one of these was Rob.

"Rob tells us a bit of his story and gives to all of us the only message I want to share for 2013."