Three stung at Four Mile Beach

Three stung at Four Mile Beach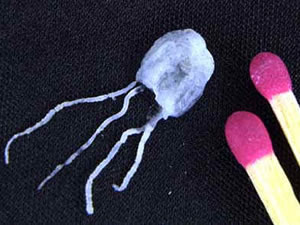 Three people have been treated for suspected irukandji stings after swimming at Four Mile Beach late Thursday afternoon.

Colin Sparkes from the North Queensland Branch of Queensland Surf Life Saving said a medical centre in Port Douglas had contacted them to advise that they were treating two of the three victims for irukandji stings sustained at Four Mile Beach, while an ambulance was on the scene at around 5pm treating another casualty.

Mr Sparkes believes the life guards on duty at the time were not aware of the two initial stings as it is common for the effects of irukandju stings to be delayed for 20 minutes or more.

"It's not like a box jellyfish when you know straight away. With irukandji you might have a minor irritation, get in the car and go home and start getting crook."

A number of Cairns' northern beaches have been closed in recent day, but Mr Sparkes said that while there are a number of stinger "hot spots" in Cairns, Four Mile Beach is not one of the more notorious locations.

He said the decision to close beaches has its challenges.

"We try and be as proactive as possible. It's a balancing act because once we close beaches you upset people, upset tourists."

Swimming nets, while effective at keeping larger box jellyfish at bay, are unable to prevent irukandji (which grow to around one centimetre with longer tentacles) from entering swimming areas.

Mr Sparkes said that 40 box jellyfish had been caught outside the Four Mile Beach nets just a few days ago.

The North Queensland Branch of Queensland Surf Life Saving advise people not to wade or swim in the open water or at closed beaches with recent weather conditions ideal for the presence of jellyfish.

Get sports news first on The Newsport Sport page.