Muddies steal victory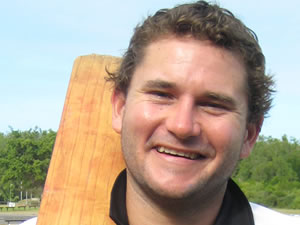 In what will surely go down as one of the more unusual games of cricket played this year, the Port Douglas Mudcrabs stole an unlikely victory against Norths.

Norths' skipper was concerned about some dampness on the pitch, but the umpire, and Muddies skipper Nathan King believed the pitch was playable and after losing the toss the Muddies were sent in to bat.

King may have been rueing his decision as the Muddies crumbled to be 3 for 0 after the first two overs.

Having been dismissed for a total of 57 in a previous game against Norths, King told his players merely surpassing that amount would be their goal.

Varcoe came to the rescue smashing 23 whole King was stranded on 14 not out as the tail-enders put up little defence apart from Adam Lucas' booming six taking the total to 68.

A change of innings bought little change to the proceedings as the Norths' batsmen quickly found out just how difficult batting conditions were with a wicket falling off the first ball.

Lucas and Vikionkorpi barrelled through the Norths' top order each snaring three wickets to have Norths at 6 for 30 at drinks.

David Coulthard took the ball after the break and immediately had an impact with Simon Cody taking an easy catch after being strategically placed by King.

Alex Bendle cleaned up the tail with two wickets in one over to clean up the Norths tail, leaving their score on a paltry 32.

Top scorers
Muddies: H Varcoe 23, N King 14 no.
Best bowling
Muddies: A Lucas 8 overs 7 maidens 3 for 2, B Vikionkorpi 6 over 3 for 14.


Get sports news first on The Newsport Sport page.