Mossman Bowls results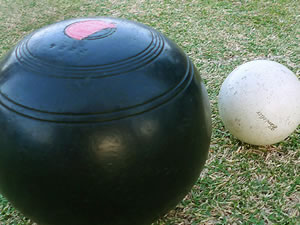 Another memorable afternoon of competition was had by all on Saturday with another good turnout for Jackpot Bowls. The Men's President, David Egan, had the pleasant duty of presenting Lloyd Valentine with his Veteran's Badge.

Men's Results

C.Andreassen, T.Pitt and D.Blain def Rangie, Zilly and B.Gard 25-23.
T.Brack, S.Jellis and R.Parkes def B.Barabas, Kiwi and C.Dwyer 22-15.
Morry, C.Wills and R.Patterson def T.Gray, T.Pisot and J.Hocking 24-18.
S.Renton, G.Wilmot and C.Maxted def K.Pitt, Dick Pitt and P.Cleary 25-15.
J.Maxwell, T.Brylack and Doug Pitt def J.Hocking Jnr, G.Marsh and J.Girgenti 28-18.
L.Valentine, P.Jansen and D.Egan racked up an impressive score against S.Chatterton, S.Parkes and N.Tesch 41-10.

Ladies Results

Ten brave ladies bowled on Thursday and the winners were Robyn Petrus, Margaret Cooper and Carole Maxted with +15 defeating Denise Highland, Val Robinson and Dot Kostyrka (+12).

Meanwhile, Maureen Tucker and Glenys Sharp (+14) defeated Barbara May and Betty McClelland (+10).

The raffle winner was Denise Highland and selectors for January are Kaye Dean and Denise Highland.

Cheap, easy, and lasts longer. Check out The Newsport Classifieds.