Miglioranza stars for Muddies

Miglioranza stars for Muddies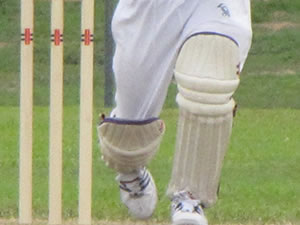 Continuing the benefits of winning the toss, C grade Muddies stuck to their formula of "runs on the board" by batting first.

The hard, dry home deck offered an even, well rolled grass cover for the batsmen, but at one end developing cracks were likely to at least produce some uneven bounce.

The first three Muddies batsmen found themselves out early from the slow pace of the pitch, the ball not "coming onto" the bat, placing the team 3/22 after 7 overs.

Matt Muller at four partnered with Kerrod Andrews to increase the run rate and stave off wickets. Taking the team total to 48 off a further 4 overs, Muller was caught on his sixteenth ball for 12.

Andrews, having just hit a six, helped run rate but the fall of wickets was still a worry.

The first three balls Saint (6) faced were wides and his lusty outfield hitting was only rewarded with twos before surprisingly being bowled to a yorking slow off spin after contributing to a partnership of 37.

The small framed Andrews was batting with great power and timing that had (his own) crowd chanting and cheering with the score at 5/85.

Enter Hilditch, equal to his set partner, boundary fourth ball. Andrews (39) was bowled trying to be defensive off the next ball.

Ben Shrimpton (10) offered support in adding to a partnership of 31 and the Muddies had strong momentum at 7/119 with 4 overs to go before Jordan Butters (25) debuted with 16 off his first six balls.

Hilditch (29) having three of his five boundaries miss the rope by a metre was bowled and the tail of Kaiden Sorrensen and Wil Bendle produced a run a ball as the Muddies finished 30 overs at 9/157.

Barron River started in a similar position at 3/21 suffering early losses to Miglioranza who finished with 3/5 off 6 overs, whilst Kaiden Sorrensen also tied the batsmen down with 1/15 off his opening 5 over spell.

Behind on run rate, Barron River at drinks were 3/37 but when Joyce (2/22) dismissed Date (19) LBW, Trewin proceeded to smash 46 off 29 balls to give a glimmer of hope for the visitors.

Excellent fielding ensured Trewin had to do it solo as further wickets fell around him, eventually falling bowled to Miglioranza who also managed a virtual direct hit run out.

Left too much to do in the second half of their innings, Barron River only managed 8/113 off their 30 overs with Muddies asserting their dominance yet again.

Need an employee or looking for a job. See our Employment page.