Epic journey for devoted dad

Epic journey for devoted dad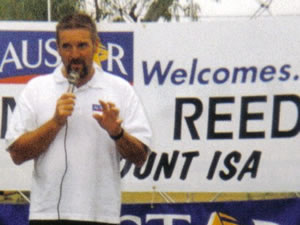 One man will embark on an epic 2000km walk from Port Douglas to Brisbane this September to raise money for the fight against Cystic Fibrosis.

Nigel Reed is no stranger to long distance journeys. This September's 36 day hike along the coast will be his fourth in 20 years since his daughter, Zoe, died from the debilitating disease.

"She died in 1994 and I promised her I'd walk around the world. To date I've covered 17,500km," Nigel said.

"When Zoe died I walked from England to Australia, across America, I've pushed a wheelchair from Melbourne to Brisbane, I've circumnavigated Queensland, I've done two 500km (walks) in five days, I've done Sydney to Brisbane

"I've set myself a target of crossing Canada and also doing the length of New Zealand. This is the first of those three legs."

Remarkably, this isn't even the first time Nigel has undertaken the Port to Brisbane trip by foot.

"It's the first one I ever did, that was in 1990."

Nigel, who has been featured on the popular television series 'Australian Story', aims to raise $30,000 for Cystic Fibrosis Queensland and is looking for a sponsor to provide a campervan and fuel for the duration of the journey.

If you'd like to make a donation contact Cystic Fibrosis Queensland (say it's for Zoe's father's walk) on 1800 232 823 or via their website.

If you can help Nigel with a support vehicle such as a campervan please contact him at nigel1reed@hotmail.com or visit his website.

Read more of today's news. Check out The Newsport home page.