Drivers beware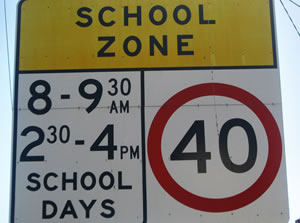 Motorists have been reminded to pay particular attention when driving near schools with students returning from their holidays in coming weeks.

More than 60,000 children are starting school for the first time this year so all road users should take particular care around school zones and on routes likely to be used by children travelling to school.

State member for Cook, Jason O'Brien said parents also had a role to play in ensuring their children's safety.

"Parents should take the time to educate their children in the basics of road safety, particularly children starting school for the first time.

"Police would also like to urge parents to familiarise themselves with school drop-off and pick-up practices and discuss with their children the rules for school zones."

Mr O'Brien said residents could expect to see police officers out in force during the back to school period, targeting:

School zones, including speeding offences in 40kmh zones
Parking and no standing zone offences in relation to the drop off and pickup of children at schools
School crossings
Any other offences detected around schools.

Need a tradie? Check out our Trades and Services Directory.