Community concert planned
Community concert planned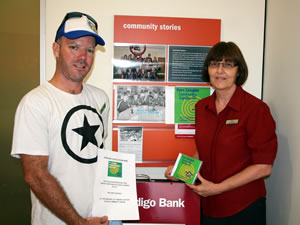 Local businesses can help the Port Douglas community garden flourish without getting their hands dirty, according to community garden project manager, Kevin Eldridge.

With the recent production of a CD containing 11 tracks from local artists, Mr Eldridge is calling on businesses to stock a handful of the $10 CDs to sell to their customers on behalf of the community garden group.

"It's a thoroughly good compilation, really good listening and people who have already listened to it have come back with positive feedback that they've really enjoyed it.

Those businesses already on board include Bendigo Bank, Commonwealth and Westpac banks, Wildlife Habitat, A Tropical Nite, Happy Herb Shop and Candlenut Gallery.

They hope to make $5000 from the sale of the first run of the CD's, while a concert is also being planned in Mowbray Street for 31 March to coincide with local government elections.

"All these artists represented on the CD, if they're in town, are going to come and play their song," Mr Eldridge said.

"It's going to be a good family fun day. Voting day everyone is going to be in that vicinity which is turning into the family precinct in town, Mowbray Street."

For more information please contact Kevin Eldridge on 0434 372 040 or the Port Douglas Neighbourhood Centre on 4099 5518.

Missed a story? Check out our extensive News Archive.