Carling moves to go pro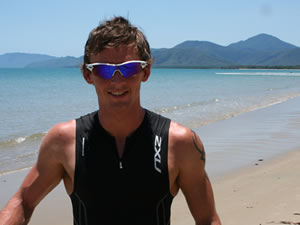 Local triathlete Nick Carling will be taking the next step towards his goal of turning professional by trading the sands of Four Mile Beach for those of Sunshine Coast.

Carling has been instrumental in the development of a thriving fitness scene in Port Douglas, but says the move South is necessary in order to further his triathlon career.

"It's definitely going ahead but it won't be until the end of June.

"I've got to get through the next race which is the one in Melbourne in 11 weeks' time and then do another three or four months training up here and then head down there (Sunshine Coast) where there's better facilities and more opportunities to kick on and take it to the pro level.

"There are just better aquatic centres, better roads, the roads up here are pretty terrible for tri bikes especially. There's a lot more indoor facilities as well that the pros use like indoor cycling centres."

He said that he has two main goals to aim for which will help him focus during his tough endurance training.

"The first is to turn pro which means you've got to finish in the top three for three major races; ironman or half-ironman, and the second is to go to Hawaii to do the Kona (the Kailua-Kona which includes a 3.8km swim, 180km bike ride, and 42km mile run)."

Carling says his Melbourne based coach, Trevor Chetcuti, was keen for Carling to make the move in a bid to place his name next to other triathlon champions such as Mike Le Roux.

At 26 years of age, Carling has plenty of time ahead of him before entering the period where triathletes reach their peak at around 30 to 35 years old.

"It's going to take a couple of years of solid training to be up there and be able to mix it with the pros," he said.

Carling, who runs Actin Fitness, is keen to see his clients take up the challenge of the Solar Eclipse Marathon in November, a race he will be returning to Port to compete in.

"I'll definitely be coming back up for that, that'll be awesome. I want to see my clients do that as well."

Missed a story? Check out our extensive News Archive.