Big numbers turn out for bowls

Big numbers turn out for bowls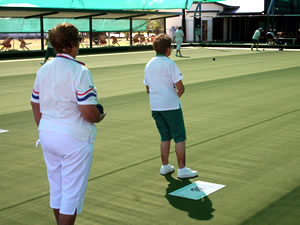 The holiday season has been outstanding with a record number of players turning out for afternoons of friendly and extremely sociable competition.

Saturdays' Jackpot bowls were no exception with even more new players coming along to learn the game and enjoy the friendly relaxed atmosphere and the joviality in abundance.

Mens Results

S.Renton, C.Andreassen and D.Egan had a draw with R.Gray, T.Pisot and R.Patterson 18-18.
S.Chatterton, B.Gard, and N.Tesch def A.Douglas, B.Barbar and R.Parkes 15-14.
C.Wills and J.Hocking def L.Valentine and C.Dwyer 23-20.
R.Williamson, M.Boundy and Doug Pitt def A.Christie, S.Jellis and P.Cleary 22-14.
Dick Pitt, T.Bracks and J.Girgenti def T.Elcoate, G.Marsh and The Kiwi 21-11.
The Trojans of the day were Morrie, Zilly and Davie Blain who rolled J.Maxwell, T.Wild and G.Banks 41-9.

Club competition will be starting in the near future so players are reminded to put their names in for singles, doubles and threes competitions.

For further information please don't hesitate to ask any of your committee members who are only too willing to help.

Ladies competition

Welcome back ladies. Our first meeting for the year will be on Thursday 12 January at 10.30am followed by social bowls.

Conditions for competitions are on the board so please refer to them.

Get sports news first on The Newsport Sport page.