Australia Day to help Cancer sufferers
Wednesday 18 January 2012
Australia Day to help cancer sufferers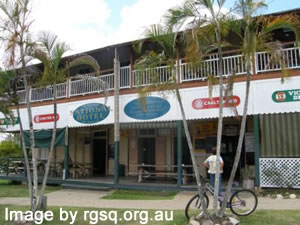 A huge public Australia Day celebration will be held at the Mt Molloy National Hotel, to celebrate and to raise funds for a vital local charity.

Publicans of the Mt Molloy National Hotel, Scott and Belinda Peters, have a huge day of fun family activities planned for Australia Day and half of all proceeds from the event will be donated to Cancer Council Queensland.

Celebrations will kick-off from 11am with raffles, stalls, sausage sizzle and live entertainment provided.

Highlights of the day will include the famous cane toad races, brick throwing and a snake show.

Mr and Mrs Peters said they were keen to raise funds for Cancer Council Queensland because they know many people affected by the disease.

"So many people in our community have been affected by cancer, so we hope to raise as much money as we can for the Cancer Council," Mrs Peters said.

"We hope that everyone from the local communities can come and support our event this Australia Day."

For more information about the Australia Day party, please contact Belinda Peters and the Mt Molloy National Hotel on 4094 1133.

Get sports news first on The Newsport Sport page.