All eyes on king tides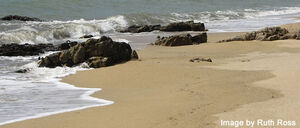 As Queensland residents prepare for king tides this summer, they also have the chance to visualise the rising waters along our coast by photographing the regional king tides event.

Green Cross Australia and Surf Life Saving Queensland are encouraging coastal communities to take photos of sea levels during the upcoming king tides season as part of 'Witness King Tides' an initiative to better prepare Queensland for a future where sea levels are predicted to rise.

Mara Bún, CEO of Green Cross Australia, said taking photos of sea levels could reveal what coasts might look like under such conditions in the future.

"Witness King Tides is about gathering visual data to prepare ourselves for the future, while at the same time connecting people to the coast and the environmental issues at hand," Ms Bún said.

"Given that 85% of Queensland's population lives within 50km of the coast, it is vital that we know what to expect in the coming years."

The project has been designed to encourage Queenslanders living near the coast to go out and see firsthand the potential effects of rising sea levels, and then to share their images online via the Witness King Tides portal.

"Climate change and extreme weather events pose a potential threat to our surf life saving clubs and services and we are encouraging our clubs to take part in taking photos," said George Hill, Surf Life Saving Queensland Chief Operations Officer.

"Projections of change in climate signify that erosion and inundation will be important issues."

Ms Bún said recent studies had found rising sea levels were being considered a significant contributing factor to changes in future lifestyles.

"This project will help generate awareness about sea level rise, while creating a visual record of areas that may be impacted," she said.

"We are all responsible for preserving and protecting our environment and this is Queensland's opportunity to lend a hand."

Residents can find out when the tide occurs by visiting www.witnesskingtides.org and registering.

Participants can upload their photographs to the new
Witness King Tides web portal to create a mosaic of snapshots for future climate planning.

The website also features information on the 2012 Summer King Tide events and tips for taking useful photos.

Witness King Tide projects have been run in California, Canada and also New South Wales.

Have you checked out the region's best photo competition?