Your say on the future of our water
Wednesday 19 January 2011
Your say on the future of our water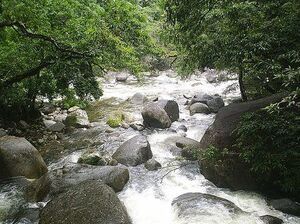 Cairns Regional Council plans to commission a report for the augmentation of the Rex Creek water supply, and is seeking community feedback via their 'Your Say' online forum.

The creek currently provides drinking water to Mossman, Port Douglas, Mossman Gorge, Mowbray, Newell Beach, Bonnie Doon, Cassowary, Craiglie, Cooya Beach and Killaloe, however Council is concerned that the supply may be unsustainable.

The Your Say forum entitled 'Securing Future Water: Mossman and Port Douglas' states "Sustainability and reliability of our water supply is a major priority for all communities.

"In the former Douglas region water is primarily sourced directly from local rivers and subject to natural fluctuations in water levels due to climatic conditions. For this reason, it is essential that we plan for growth and development throughout the region."

The forum asks users to contribute to the discussion by answering questions including:


How important do you consider the need is for an additional or supplementary water supply source for the area of Mossman and Port Douglas?
What are three (3) things you'd like to see preserved and enhanced in the chosen location by Council when determining the location for a new source?
What are your thoughts on how population growth and development will affect the future security and on-going supply of water to your area?
Do you have a view on the general perception of the communities understanding of the water supply issues within your area?
What are the most important factors you would like to see addressed by Council when determining the location for a new source?

Council states "The outcome of the report will be an evaluation of the overall sustainability of available source options, including social, environmental, and economic governance considerations.

"Community input to the planning process will assist in finalising decisions on the most appropriate source option/s."

If you'd like to contribute to the discussion, go to the Your Say - Securing Future Water: Mossman and Port Douglas forum.