Weird and wonderful titan in Cairns
Weird and wonderful titan in Cairns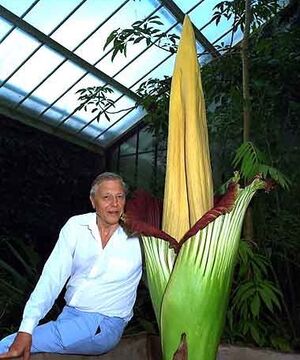 The largest single flower in the tropical world is about to display its glory in the Cairns Botanic Garden.

Known as the Titan Arum (Amorphophallus titanum), the tropical species is indigenous only to the rainforests of Sumatra. When in full bloom, it touts an inflorescence that can reach a height of three metres.

Mayor Val Schier said the Titan Arum was a weird yet wonderful example of the vast plant collection held in the Botanic Gardens, many of which were extremely rare.

"This is an extraordinary looking flower; one that is exceptionally rare. We are so fortunate here in Cairns to have the perfect climate for nurturing such a wide variety of tropical exotics," Cr Schier said.

"Garden enthusiasts and scientists the world over travel to see the Cairns collection.

Besides the fact that the Titan Arum is huge, it has a central stalk that looks like a large loaf of French bread and a single furled petal that is a deep purple-red," Cr Schier said.

"Once fully open, Its fragrance is that of rotting meat I am told, and so it attracts carrion eating beetles that actually ensure it is pollinated."

After the flower dies back, a single leaf, which reaches the size of a small tree, grows from the underground corm or root. The leaf grows on a semi-green stalk, branching into three sections at the top, each containing many leaflets.

The leaf structure can reach up to six metres in height and five metres in width. Each year, the old leaf dies and is replaced by a new one. When the corm has stored enough energy, it becomes dormant for about 4 months. Then the growing and flowering process is repeated.

The corm of the Titan Arum is the largest in the world, weighing up to approximately 50 kilograms.

"We have had this particular species in the garden for about ten years, but this is the first time this particular plant has produced a flower.

"Botanic Garden staff have been waiting for days for this amazing flower to unfurl. The wait has been described by some dedicated enthusiasts as akin to awaiting the birth of a child, so I know that this is a special occasion."

Staff have imported pollen from the Sydney Botanic Gardens to ensure that the arum is pollinated once the flower opens.